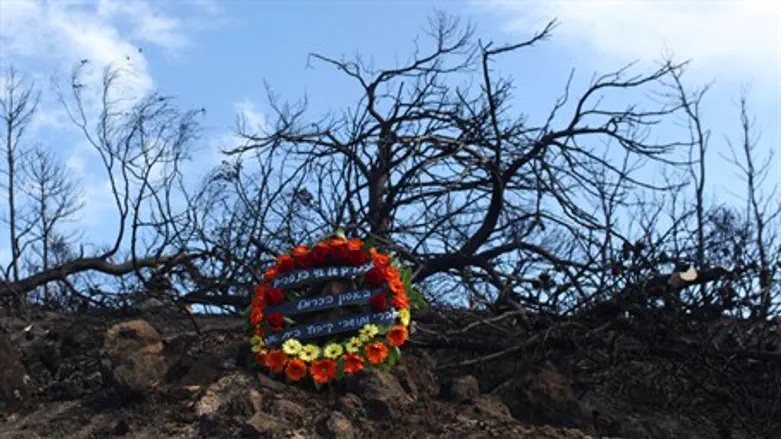 Memorial to victims of 2010 Carmel Forest Fire (file)
Kobi Gideon/Flash 90
It has been five years since Israel's deadliest forest fire that destroyed large sections of the Carmel forest and killed 44 people. The fire which occurred on December 3rd, 2010 caused over 17,000 people to be evacuated from their homes.
Dr. Shay Levy, renowned expert on the prevention of forest fires and Lecturer at both Haifa University, and Emek Israel College, spoke to Arutz Sheva about the current situation in the Carmel forest.
Dr. Levy noted that forest fires have not ceased from the region, and that the majority of the fires in the area, albeit on a much larger scale, are caused by people.
"Sometimes the fires are caused by negligence, of hikers, or drivers who carelessly throw a lit cigarette out of a window, and sometimes they are caused by arsonists. But the majority of the fires lit are handled very quickly and diligently by the Israel National Fire and Rescue Authority, and most of the time don't become large scale fires," he said.
When asked if he could be more specific Levy answered that "in Israel small scale fires are not investigated, often due to budgetary restraints. Therefore it is impossible to determine their causes."
The Israel National Fire and Rescue Authority is responsible for investigating all cases of fire outbreaks in Israel. "If there is actual damage to property or to people,  then they do investigate. However, most of the smaller fires do not cause damage to property and are therefore not investigated."
Levy explained that the main thing to understand with regards to investigation, is scale. "Remember that what is considered a large fire here, in countries other than Israel such fires are not considered large at all."
"For us living in a small country every fire, is harmful and every tree is sacred.
"Whenever there is a fire, even a small one the result is that large forces of fire fighters are called in to prevent the fire from spreading." This is in an effort to prevent a large scale fire such as the one from 2010 from occurring again.   
According to Levy, the most important thing for the general populace to do is to simply raise the level of awareness and hopefully decrease the amount of negligence among one another. "With strong winds, coals not smothered properly can cause a fire even two or three days later," he said.
Today, things are looking up for the Carmel region.
If one visits the carmel now-a-days they will see that the vegetation has returned to the many of the areas damaged by the fire. Additionally, Keren Kayemet LeYisrael (KKL) and Israel Nature and Parks Authority have removed a lot of the vegetation and other elements that can be used as fuel for fires. One can also add to the list of positive changes in the area, the drastically improved fire prevention system of the fire department, and the attention they give to the forests around the Carmel region. But there is still more work to do.
"The problematic area is the area with high vegetation inside the forests," said Levy.  "There is not always a budget to deal with these areas properly.  In order to do so, one must remove excess vegetation that can easily combust and ignite other plants and trees on a large scale. And there are still forests that have a lot of problematic vegetation," Levy warned. "Especially in the cities and towns such as Haifa, Nesher, and others."
Levy also said that extreme weather conditions such as the heat that Israel suffered through this summer exasperates the situation even further. "This (high amounts of combustible vegetation) poses a danger in regions such as the Carmel whenever we have extreme weather conditions. In those cases it doesn't matter if a fire starter would be caused by laziness or arson, things would still ignite very quickly, and such fires could cause a large scale disaster and would be very difficult to stop," he said.
The topography of the Carmel, with its many 'hard-to-reach' places also further exasperates the issue. "We need to budget appropriately to include proper care of the forests as well as more easily accessible wooded areas," said Levy.  
"In short," Levy concluded, "we have to put an emphasis on cleaning up the interiors of the forests, particularly where a lot of natural growth occurs and the forests are not cared for properly, And we need to be far more vigilant in protecting what we have."