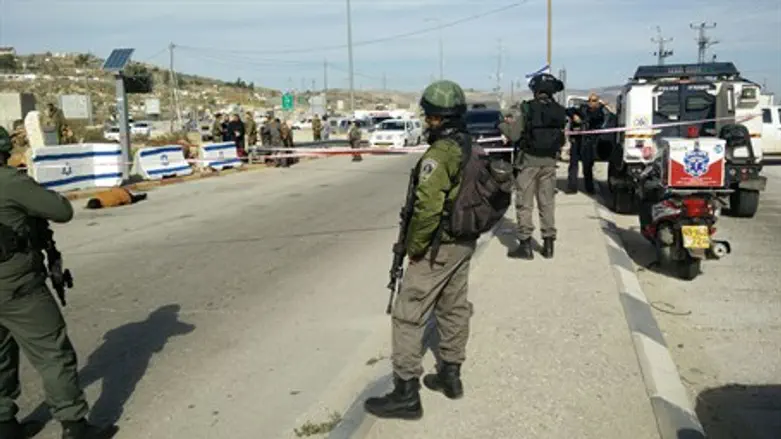 Knifeman attempts stabbing in Samaria
Ichud Haza
A Border Policeman credited two of his comrades Thursday with saving his life when they reacted alertly to a terrorist attack in Samaria.
Sergeant S. said that "if my comrade warriors had not operated so quickly and professionally, it is very likely that I would not be standing here today."
"We are stationed at the checkpoint all day and night and are required to maintain maximal alertness and readiness. This was how things stood when a terrorist armed with a knife suddenly lunged at us and tried to stab be before being neutralized."
The incident took place at about 9:00 AM Thursday. A taxicab from Shechem neared the Tapuah Intersection. Suddenly an Arab with a knife drawn came out and ran toward the Border Policemen.
The terrorist attempted to stab one of the warriors at the checkpoint. Two Border Policemen, Corporal D. and Sergeant D., identified the terrorist, immediately cocked their guns and carried out accurate gunfire toward the terrorist. He was neutralized and was later classified as being dead.
Sergeant D. recalled: "We saw the terrorist leaping from the car, we cocked our weapons, and we carried out accurate fire. I am glad we brought the incident to a speedy end, and avoided loss of human life and hurting innocents.
Deputy Commander of Border Police in Judea and Samaria, Commander Yitzchak Brik, applauded the warriors' quick reaction and said: "The warriors fought professionally and with determination, just as is expected from and Border Police warrior. They brought the event to an end in a matter of seconds with zero casualties on our side."