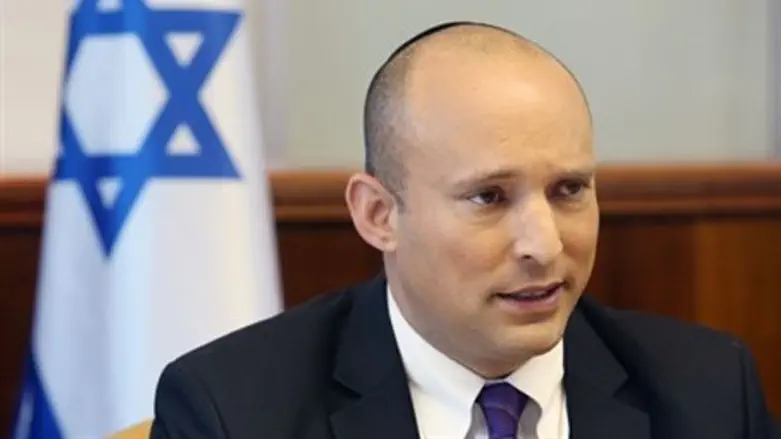 Naftali Bennett
Marc Israel Sellem / Flash 90
Jewish Home Chairman Naftali Bennett said Monday that Israel needs to launch "Defensive Shield 2" – an allusion to the large scale operation that drastically scaled back Arab terror in 2002.
"We need to go into Hevron with very large forces, into the towns around it," he told Army Radio. "There is no alternative but to cary out a kind of Defensive Shield in this sector."
"The original Defensive Shield in 2002 was unpleasant, but yes, we went into the cities as well as into the villages, and we cleaned them out, and terror dropped by 80%."
Army Radio also quoted statements allegedly made by Bennett in a recent closed forum with party activists from Judea and Samaria. "Bibi spoke about a unilateral step when he was abroad, and did not take it back until I fired a bullet between his eyes," he allegedly said.
Minister Uri Ariel, who was also present, warned Bennett about his incendiary wording. Bennett responded: "Don't get me wrong, this is a metaphor, and of course, if you leak from here there will not be any more such meetings."
Bennett was asked about the reported closed-door statement and did not deny it. "I am responsible for the security of Israel and I will not respond to private conversations. There will not be a unilateral retreat as long as I am in the government."
Speaking at the Center for American Progress (CAP) in Washington some 12 days ago, Netanyahu did not rule out a possible unilateral Israeli move in Judea and Samaria, though he stressed, "such a move will have to meet Israel's security criteria, as well as require greater international understanding than there is now."
Members of Netanyahu's office later claimed that his statement did not refer to unilateral withdrawals from the region but rather to unilateral steps of another nature.