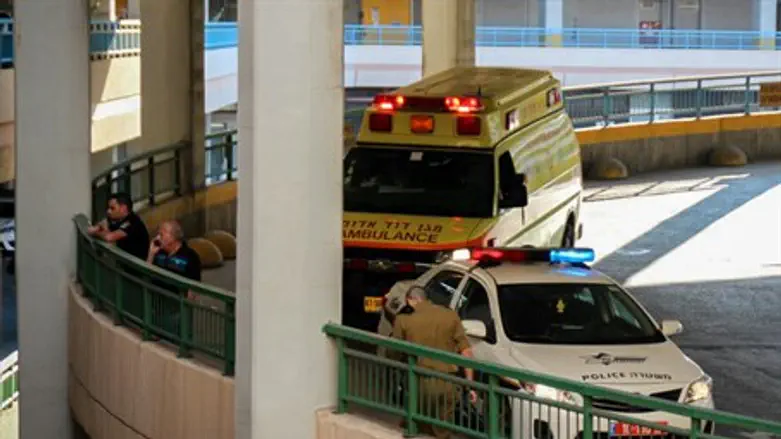 Scene of stabbing at Tel Aviv's Panorama building
Moti Karelitz/ZAKA Tel Aviv/Flash 90
Israel will revoke the permits of thousands of Palestinian Arabs from the Hevron area who were given permits to enter areas under full Israeli sovereignty for "personal reasons", Channel 10 News reported on Thursday.
According to the report, the measure was decided upon by the Coordinator of Government Activities in Judea, Samaria and Gaza (COGAT), General Yoav Mordechai, following the terrorist attack in Tel Aviv, which was carried out by a 36-year-old resident of Dura, near Hevron, who had been given a work permit and was gainfully employed at a nearby restaurant.
Mordechai's decision stipulates that all permits for personal reasons that were given out to residents of the Hevron region will be canceled. However, no sanctions will be taken against residents who hold a similar permit of this kind but who reside outside Judea and Samaria.
At the same time, reported Channel 10, no new permits of this kind will issued and existing permits will not be renewed to Arabs throughout Judea and Samaria. The decision means that any Palestinian Arabs who have received this type of permit are required to return to their homes as soon as possible.
There have been several other terrorist attacks which involved Arab workers who took advantage of their place of employment and access to Jewish areas to launch lethal attacks.
Another Arab restaurant worker in Bat Yam, another suburb of Tel Aviv, tricked IDF First Sergeant Tomer Hazan in 2013 to go on a drive with him to his village, before strangling him to death in an open field and hiding his body in a water hole.
Also in Tel Aviv where Thursday's attack took place, early last month an Arab construction worker took advantage of his job to go out and stab five Jews with a screwdriver, lightly wounding them before being shot.
Last year construction worker Netanel Arami had his rappelling ropes cut by Arab terrorist coworkers and fell to his death, in a case police and the courts covered up for a long time.
In the massacre at a synagogue in Jerusalem's western Har Nof neighborhood just over a year ago, one of the two Arab terrorists who murdered four Jews at prayer - reportedly beheading two of them - and shot a Druze police officer to death, worked at a store meters from the synagogue.