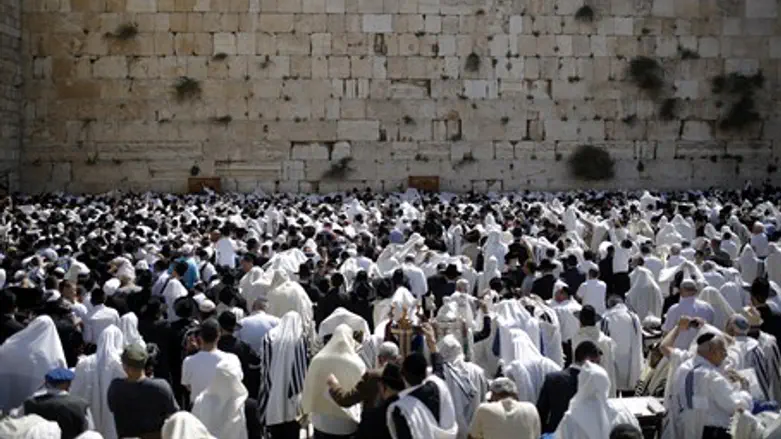 Jews worship at the Kotel (Western Wall)
Reuters
This coming Sunday, a group is hoping to organize what could be the biggest "connected" Jewish event ever – getting five million people together electronically to join a huge crowd which will gather at the Kotel to say the "Tikun Haklali," a special set of psalms that are said for protection from danger among other things.
According to Eldad Eilat, one of the organizers, the event was the idea of David Assouline, "a wonderful Jew and a businessman in the Syrian Jewish community in New York who has worked hard on behalf of the Jewish people. He understands that the current situation of the Jewish people is very delicate, and anything we can do to save ourselves from the 'bad karma' created by the atmosphere of terror is important."
The "Tikun Haklali" is a set of ten psalms that was selected by Rav Nachman of Breslov, the eighteenth century sage who has many followers in Israel and around the world. Buried in Ukraine, his tomb attracts tens of thousands of visitors annually, especially on Rosh Hashana.
At the event Sunday, tens of thousands of Jews will read the chapters of psalms in unison – joined by millions of Jews around the world who will be part of the event via the Internet or closed circuit television. The event will take place at 8 p.m. in Israel, 1 p.m. Eastern Standard Time and 10 a.m. in the western U.S., allowing the maximum number of people to participate, said Eilat.
"The Tikun is said by people who want to give themselves a spiritual boost against sexual licentiousness that is so common today, but it goes beyond that to the essence of our relationship with God," said Eilat. "By having so many Jews together we help build that relationship, especially at times of trouble, as so many great sages have pointed out. Especially among rabbis associated with the Breslov movement, the Tikun is considered a very important effort for salvation. So we decided to organize this worldwide event."
In order to reach as many people as possible, a special web site has been set up, said Eilat. "We have been working to include as many circles and groups as possible. So far we have had a lot of response from Chabad, the Religious Zionist public, and many Sephardic yeshivas, such as the yeshiva of Rabbi Abergel and the Kabbalah Yeshiva in Jerusalem. We intend to make a special effort to bring in the secular public as well, so we are preparing sites in different styles and languages."
The spiritual power of the Tikun is significant, said Eilat. "In Uman, at the tomb of Rav Nachman, they say the Tikun in song and unity, and many people are strongly affected spiritually from this. We are sure that this event will bring about great benefit for the Jewish people and cancel any bad edicts against us."