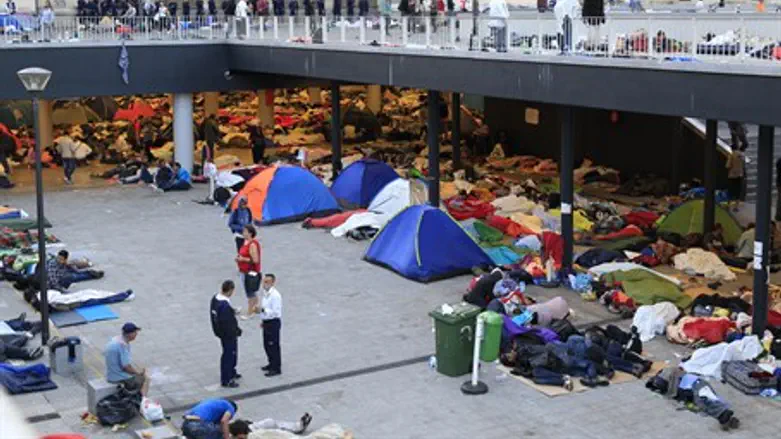 Syrian migrants (illustration)
Reuters
US House Speaker Paul Ryan on Tuesday called for a pause in a White House program to settle Syrian migrants in America, citing security fears following the Paris attacks in which at least 129 people were murdered.
The top Republican lawmaker joined half of US state governors in urging US President Barack Obama to suspend the scheme, calling for a full review of the vetting process to ensure that terrorists do not slip into the country among the mgirants.
"Our nation has always been welcoming but we cannot let terrorists take advantage of our compassion," Ryan told reporters after meeting with House Republicans in the US Capitol.
"We think the prudent, the responsible thing is to take a pause in this particular aspect of this refugee program, in order to verify that terrorists are not trying to infiltrate the refugee population," he added. "This is a moment where it's better to be safe than to be sorry."
Significantly, at least one of the terrorists behind the six coordinated attacks apparently entered Europe via Greece as a Syrian "refugee."
Ryan said he and committee chairs in the House of Representatives were working on legislation to address the Syrian refugee crisis.
It was not immediately clear what the legislation would entail. Ryan said Monday he was considering all options.
Some Republicans are threatening to delay a government funding bill next month unless federal funds stops flowing to the program that allows thousands of migrants from Syria and elsewhere in the Middle East to resettle in America.
Ryan said he wants the House to consider legislation "as quickly as possible," adding that conclusions about the path forward would be made this week.
The issue has become a political football in the US presidential election. Several Republican candidates including Donald Trump, Ben Carson and Mike Huckabee have announced their strong opposition to the resettling program.
Some 2016 hopefuls like Ted Cruz and Jeb Bush have said they would prioritize resettling for Syria's Christian refugees and not Muslims so as to save the Christian community that has been heavily targeted in the Middle East, in comments which drew criticism from the president.
AFP contributed to this report.