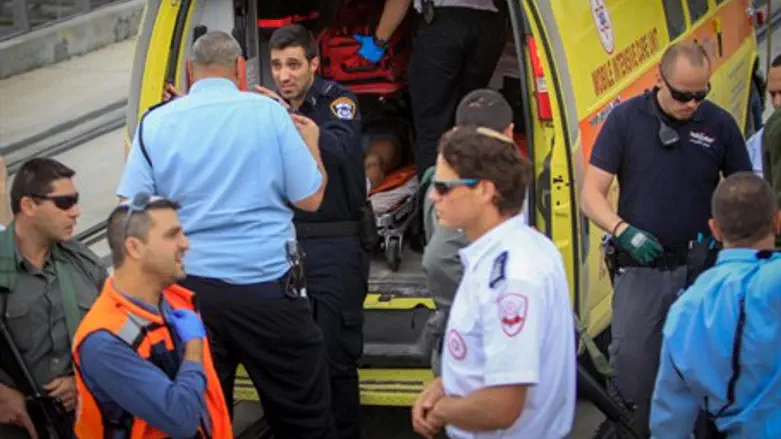 Illustrative: victim evacuated into ambulance after terror attack
Muammar Awad/Flash90
October 2015 marked the worst month for terror in Israel in over nine years, the Israel Security Agency (ISA) revealed Monday. 
ISA data shows 602 attacks in 30 days - more than during Operation Protective Edge (2014), Operation Pillar of Defense (2012), or Operation Cast Lead (2009). 
In fact, there are whole years in which the number of attacks did not reach this amount: in 2010 there were 455 attacks total, and in 2011 there were 511 attacks.

The number of victims in October alone was abnormally high relative to recent years - 11 Israelis were killed, compared with five in all of 2013, for example; 80 civilians and security personnel were injured - compared with 63 in all of 2014, and 42 wounded in 2013.
Three weeks ago, the State of Israel formally filed to the High Court for Justice official statistics on terror between 2013 and mid-October 2015, showing a steady increase in the number of terrorist attacks and the number of Israeli casualties as a result of terrorism since March 2014. 
In 2013 there were approximately 1,414 attacks; in 2014 there were about 1,650 terrorist attacks; in 2015 this trend continued, with 1,703 attacks from January until October 18. Of the victims, 35 have been killed - up from zero in 2012. 
Of the 1,703 attacks in 2015, a staggering 778 attacks had been launched against Israelis since Rosh Hashana (the Jewish New Year) until mid-October.