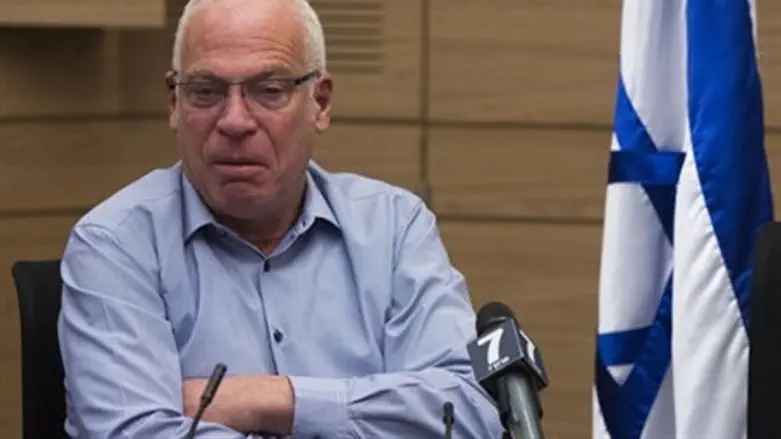 Uri Ariel
Yonatan Sindel / Flash 90
Agriculture Minister Uri Ariel (Jewish Home) visited on Monday the location of Friday's terrorist double murder near Hevron, and said that cars with Palestinian Authority license plates should not be allowed to drive on the road, which was once off-limits to Arab drivers..
He warned: "This reality, in which the place where Palestinians – some of whom may be terrorists – continue to drive through a location where a terror attack took place, is unacceptable.
"At a place where a murder occurred, the Palestinians should have to detour and not [be allowed] to drive through" Ariel opined.
"I call on the prime minister and defense minister to decide immediately which roads they are closing and which checkpoint should be renewed. The family of anyone caught in a terror attack should be expelled from Israel," he added. "This land does not bear murders, it is the Holy Land and they must be expelled."
Ariel and other local Jewish leaders are fighting to re-close Route 60 to Arabs and put back the checkpoints at the exits from villages to the route. All of these were taken down as "confidence building" measures at the request of the US government.  
A joint security operation by Shin Bet security forces and IDF Duvdevan counter-terrorism forces succeeded in capturing at least one of the terrorists behind in the murder of Rabbi Ya'akov Litman and his son Netanel on Friday.
Security forces also seized what they believe to be the murder weapon, as well as the vehicle that was used in the shooting attack close to the town of Otniel.
Under interrogation the terrorist implicated himself in the attack. The remaining details of the case are still the subject of a gag order.
The father and son were buried amid scenes of immense grief at Jerusalem's Har Hamenuchot cemetery.