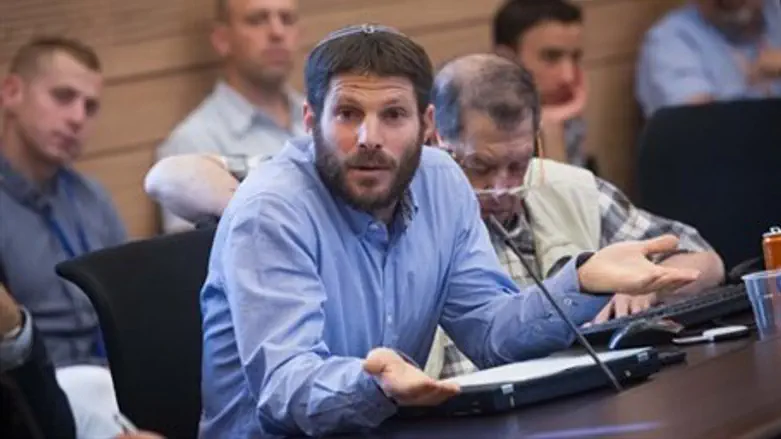 MK Smotrich
Miriam Alster/Flash 90
Opposition Head and Labor party chairman Yitzchak Herzog, as well as Yesh Atid Chairman Yair Lapid, hurled barbs of invective at rookie Jewish Home MK Bezalel Smotrich Monday, as they vented their anger over the proposed state budget, which the Knesset has begun to discuss.
"Forces that seek to take Israeli citizens' money, our tax money, and deflect them from their purpose, have taken over the prime minister's office and the finance ministry," Herzog accused.
"Instead of [sending the funds] to the Negev and Galilee, to ameliorating the housing shortage, to day care – [they are sent] to isolated settlements and anonymous organizations, headed by people whose identity is not known," he charged.
"Prime Minister Netanyahu is not the true prime minister and Finance Minister Kahlon is not the finance minister. Smotrich is prime minister. [Likud MK Oren] Hazan is finance minister." The real government is an unelected one, he said, "a government of [Samaria communities] Yitzhar and Itamar."
Former finance minister Lapid bemoaned the intention to undo the  laws he passed that would pressure hareidi men to enlist to the IDF. "What should I tell my son when he goes home from the army for Shabbat? That Smotrich sold him out? That Netanyahu doesn't care about him?"
The budget, he said, is "a big victory for Smotrich," because it is a "going out of business sale of the country's citizens, from start to finish."
Smotrich appears to have been singled out because he is the Jewish Home's sole representative in the Knesset's Finance Committee, and also because he is perceived as the most right-wing MK in the current Knesset.
Smotrich appeared unfazed by the attacks. Herzog's words are "predictable mantras uttered by a hollow opposition leader," he retorted.
As for Lapid, Smotrich said it was the current coalition that has added NIS 600 million to soldiers' salaries, whereas Lapid was a "complete failure" as finance minister.