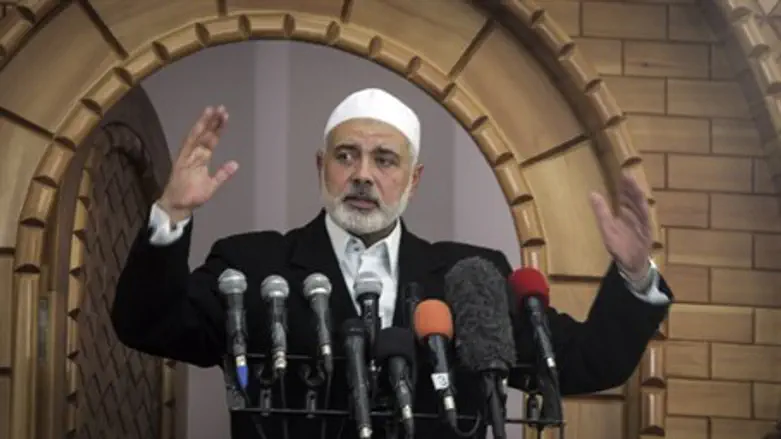 Ismail Haniyeh
Abed Rahim Khatib/Flash 90
Hamas plans to "liberate" Judea and Samaria first, and then the rest of "Palestine", the group's deputy leader Ismail Haniyeh declared on Sunday.
Speaking to the Palestine newspaper, Haniyeh outlined his desired strategy for the destruction of Israel through the "Al-Quds Intifada", which is what Hamas is calling the current terror wave against Israel.
First and foremost, he called for a conference in Gaza of the interim leadership of the Palestine Liberation Organization (PLO) in order to protect and develop the intifada.
The intifada is the best way to achieve statehood, claimed Haniyeh, and in order to achieve that, leadership that is coordinated on the field must be established, and an agreement on the goals of the intifada must be reached.
Those goals, according to Haniyeh, are: The "liberation" of Gaza, Judea and Samaria, Jerusalem and the terrorist prisoners being held in Israel, and then a plan on how to liberate the rest of "Palestine".
He further said that he sees obstacles standing in the way of the establishment of a unified leadership due to the Palestinian Authority's security coordination with Israel, which attempts to stifle the intifada.
Haniyeh reiterated that Hamas will not recognize Israel and will not agree to an alternative homeland.