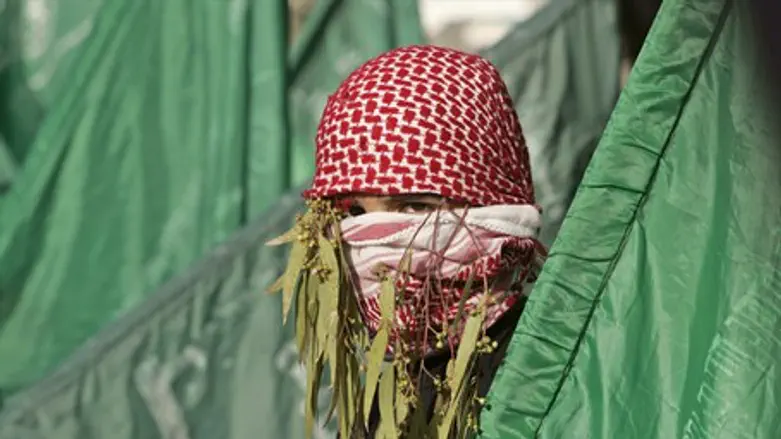 (Illustration)
Reuters
While Hamas, which dominates Gaza and much of Judea-Samaria, may be at odds with Fatah, which controls the area around Ramallah, Islamists in both areas are cooperating closely, Israeli security officials said.
The coordination extends to how, where, and when terror attacks are to be conducted, in order to achieve the ideal effect.
At a recent meeting, the Action Committee of the National and Islamic Forces in Gaza, an umbrella group for many terror groups, decided to support the "Al Quds Intifada," as the group calls it, in Jerusalem and in Judea and Samaria.
As part of its coordination, the Action Committee decided it would not conduct terror attacks in Gaza at this time, as it is in the Palestinian's interests to concentrate resources for attacks on other areas right now.
In addition, the group said that it was demanding the UN investigate the death of Yasser Arafat. At a large demonstration outside the UN in Gaza, the group said that Arafat did not die of natural causes, as a team of investigators from France recently concluded, but that he was murdered.
In 2013, Hamas announced that former President Shimon Peres had "admitted" that the Israeli government was responsible for the "murder" of former PA chairman Yasser Arafat. Hamas based its claims on comments made by Peres during an interview with the New York Times in 2013.
Peres was asked "You didn't think that Arafat should be assassinated," to which he responded: "No. I thought it was possible to do business with him. Without him, it was much more complicated. With who else could we have closed the Oslo deal? With who else could we have reached the Hevron agreement?"
"On the other hand, I tried to explain to him, for hours on end, a complete educational course: how to be a true leader," Peres continued. "We sat together, with me eating from his hand. It took courage. I told him he must be like Lincoln, like Ben-Gurion: one nation, one gun, not innumerable armed forces with each firing in a different direction. At first, Arafat refused, he said, 'La, la, la', but later he said, 'OK.' He lied right to my face, without any problem."