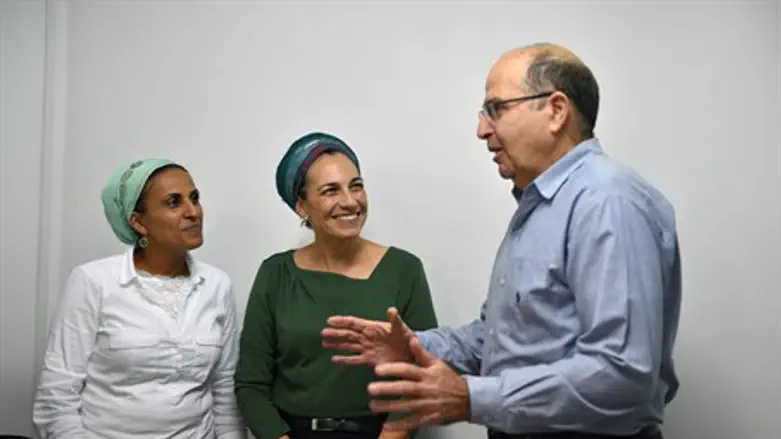 Ya'alon with mothers of terror victim
Defense Ministry
Defense Minister Moshe Ya'alon (Likud) participated on Wednesday night in the inauguration of the "Shuvu Achim Bishvil Yisrael" pre-military academy in Kiryat Moshe. 
The academy is located on a street named after the three teenage boys kidnapped and murdered by Hamas terrorists in June of 2014 - Eyal Yifrah, Gilad Shaar and Naftali Frenkel. 
At the ceremony, Ya'alon met personally with parents Ofir and Bat Galim Shaar as well as Uri and Iris Yifrah. 
"When establishing an academy in memory of Eyal, Naftali and Gilad, we must remember the spirit that was in the country when they were murdered," the Defense Minister said at the event. "The spirit that came because of them, because of their families who are here - this combination made us all responsible for one another and live our lives according to the Jewish spirit and its values."
"That is why our country is growing and thriving," Ya'alon added. 
"It is impossible today not to look briefly at what happened today in the European Union," he continued. "The fact that they are trying to delegitimize our right to exist as the nation state of the Jewish people - that is the reasoning behind labeling products [made] beyond the 1967 lines [which] are a right of our victory."
"The Arabs tried to prevent the establishment of a state with military force and were defeated in every war," Ya'alon stressed. "They understood it's impossible to defeat the IDF with military force only after the Yom Kippur War, and since then they have never tried to beat us with an army."
"They thought our spirit would be broken, that they will conduct terror, send rockets - they thought it would break us," the Defense Minister recounted. "We have repeatedly proven to them - the last time in Gaza, before that in Lebanon and now with this terror wave" that this is not the case.
"They thought maybe the terror would break us - but it doesn't help. The State continues to flourish, thrive, develop, and strengthen while look what happens with them."
"In the Middle East, hundreds of thousands of people are being murdered, and the Europeans are busy dealing with a boycott of our products, when we are the only democracy in the region," Ya'alon blasted. 
"This provides a tailwind to terrorism, it gives backing to a country like Iran where people hang in the town square for no reason," Ya'alon charged. "And with us, they're busy boycotting products." 
"I hope Europe sobers up from these bad thoughts and finds a way to straighten out, because this hypocrisy and this course will only hurt them in the end."
"I'm sure you students, with the spirit the academy will teach you, will add another layer to this country's security," Ya'alon concluded. "During your military service, you will be able to take responsibility and in all you do after, you will rise up and succeed."