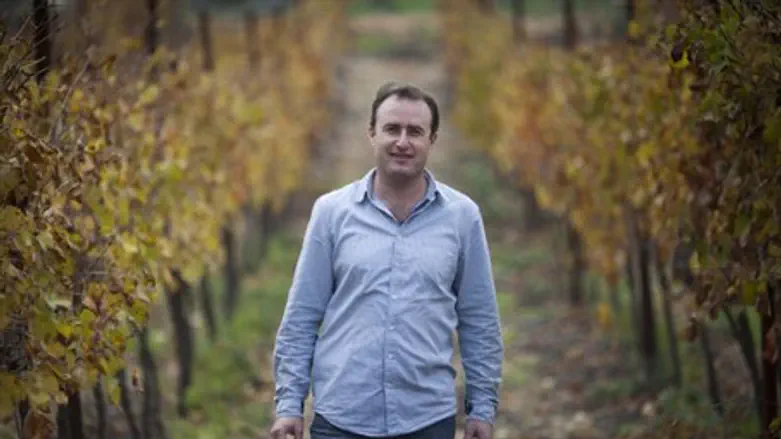 Ya'akov Berg, CEO of Psagot Winery
Flash 90
Jewish business owners in Judea, Samaria, the Golan Heights and eastern Jerusalem who are poised to be harmed by the EU decision Wednesday to label their products responded - by vowing to sell even more.
Vered Ben Saadon, owner of the Tura Winery in the village Rehelim in Samaria, told Channel 2 that around 40% of the 56,000 bottles she produces a year are designed for export.
"For five months we had no wine on the shelves thanks to people who didn't like the violence of the boycott movement," Ben Saadon revealed regarding past boycott attempts, noting how the boycott achieved the exact opposite of its goal by spurring business.
Another affected winery is Bazelet Hagolan of Kedmat Tzvi in the Golan Heights, which decided to export its fine chardonnay wines with a blue and white Israeli flag on the top of the cork.
"We are proud of our national flag and hope that other wineries will follow us and imprint the Israeli flag on wine bottles meant for export to Europe," owner Yoav Levy told Channel 2.
"We hope that despite the orders of the European Union, the (European) countries will reject the decision to accept the boycott and will support Israel," said Levy.
Shlomo Keshet, owner of the Saboneto soap factory in Kokhav Hashahar in the Binyamin region of Samaria, said he was worried about how the move might affect his workers.
"The minute they boycott products randomly, they harm the people who work, in our case people who have special needs. In other places it could be Arab workers who work shoulder to shoulder with Jewish workers who make a living from it. Therefore there's no room for boycotts. Let's put an end to it."
"Labeling products from Judea and Samaria is discrimination that stems from boorishness and hypocrisy," slammed Hagit Shechter, owner of "Matanot Labayit Beitzuv Sameach" at the religious kibbutz Rosh Tzurim in Gush Etzion. "I believe in our rights and the rights of our neighbors to a normal life and to bring home income."
David Daniel, the owner of a beehive in Judea's Hevron, said, "the European Union wants to boycott us and I want to tell them that this boycott won't take us anywhere. The attempt to harm us won't succeed. Our customers are very satisfied and happy with the products, and we are happy to market them to the entire world."
"We believe that we must fight back and call on all supporters of Israel around the world, Jews and non-Jews, to buy Israeli products," said Yaakov Berg, owner of Psagot Wineries in the Binyamin region.
"The best way to fight the European boycott is to prove with numbers, that a year from today we will sell two to three times more," added Berg. "Because if we cry and say it isn't right, it's racist, that won't make them submit, because their goal is to harm the people of Israel."