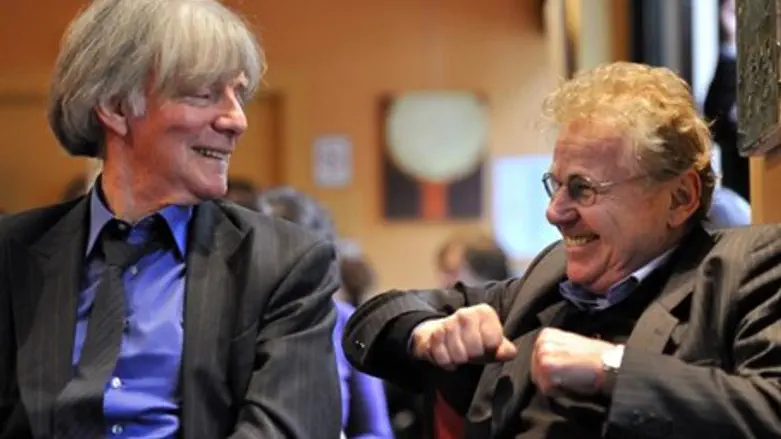 Glucksmann (L) with Daniel Cohn-Bendit
Reuters
(AFP) French-Jewish philosopher Andre Glucksmann, a former Maoist who veered to the right after condemning the crimes of communism, has died at the age of 78, his son said Tuesday.
The passionately political thinker rose to prominence in the 1970s alongside Bernard-Henri Levy as one of the France's "New Philosophers", who broke with Marxism after street protests brought the country to the brink of revolution in 1968.
"My first and best friend is no more," wrote Raphael Glucksmann on Facebook, describing his father as "a good and excellent man".
Strongly influenced by the Russian dissident Alexander Solzhenitsyn's account of his time as a political prisoner in "The Gulag Archipelago", Glucksmann railed against Soviet totalitarianism in his book "The Cook and the Cannibal" (1975), setting him on a collision course with leftwing existentialist intellectuals led by Jean-Paul Sartre.
But despite their differences, Glucksmann managed to persuade Sartre to join with France's then leading rightwing thinker Raymond Aron in campaigning for the Vietnamese "boat people" as they fled its communist regime in their thousands in 1979.
His friend, the writer and philosopher Pascal Bruckner, who has followed a similar path from left to right, told French radio that Glucksmann would be remembered for "delivering the staggering blow against communist thinking in France."
"At the time he had an enormous number of enemies, of people opposing him, but he held on," he said.
"His ideas weren't just passing thoughts, they were real engagements which he physically stuck to every day."
Having survived as a Jewish child in Nazi-occupied France -- a trauma which he recounted in his 2006 book "A Child's Rage" – Glucksmann became an advocate of international military invention, accusing the West of often "deliberate blindness" to the evils around it.
He later supported US-led invasions of Iraq and Afghanistan, and lobbied on behalf of Chechen Muslims during their war with the Russian government in the 1990s, later warning against European appeasement of President Vladimir Putin.
"Recklessness and forgetfulness create the conditions for new catastrophes in both the economy and politics," he said.
French President Francois Hollande paid tribute to Glucksmann, who died on Monday, describing him as a man who "carried in him all the dramas of the 20th century... and spent all his life and intellectual training in the service of liberty."
With his pudding-bowl haircut, he was an instantly recognizable face on France's late-night television discussion programs, and one of the country's most prominent public intellectuals.
Despite still claiming to be "of the left", Glucksmann publicly supported Nicholas Sarkozy's successful bid for the French presidency in 2007.
Sarkozy said Tuesday that he had been "honored by his friendship" and said the philosopher had never allowed his "thinking to be prisoner to ideological dictats".
Former socialist culture minister Jack Lang said that while he often disagreed with Glucksmann, as the son of Central European refugees who had sought refuge in France, he was always a fearless defender of the weak.
"The way a good part of Western society is now behaving towards the migrants is similar to what he attacked with regard to the boat people," he said.