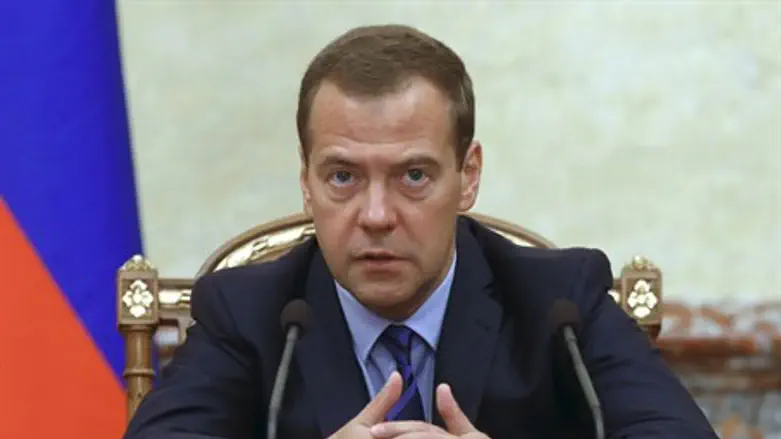 Russian Prime Minister Dmitry Medvedev
Reuters
Russian prime minister Dmitry Medvedev on Monday admitted that the passenger plane that crashed in Egypt's Sinai Peninsula may have been downed by a terrorist bomb, The International Business Times reported.
The admission marked the first time a senior Russian official has publicly acknowledged that terrorism may have played a role in the crash.
"The likelihood of a terrorist attack, of course, is being considered among what reasons could have caused this," Medvedev was quoted as having said in an interview with the Rossiyskaya Gazeta.
Russia previously confirmed that it received material gathered by British intelligence on the attack. "I can confirm that certain information has been handed on by the British side," said Dmitry Peskov, President Vladimir Putin's press secretary, according to TheInternational Business Times.
"I cannot give further details because I do not have this information. We're looking forward to co-operation from all countries that can help in investigating this terrible tragedy," he added.
Intelligence experts believe Metrojet Flight 9268 was destroyed as the result of an explosion in its luggage bay shortly after the jet took off from Sharm al-Sheikh airport last weekend.
The airplane's two black box flight recorders revealed a "very sudden explosive decompression" 24 minutes into the flight.
British media revealed Sunday that intelligence officials have reason to believe the terrorists who planned, or even carried out, the downing of the Russian airliner were British nationals who joined the ranks of Islamic State (ISIS). 
Officials at Government Communications Headquarters intercepted "chatter" in which numerous jihadis - including those with London and Birmingham accents - are heard celebrating the crash. 
Later Sunday, CNN reported that intercepts of the jihadist online chatter had been passed to the United States and Britain by Israel.