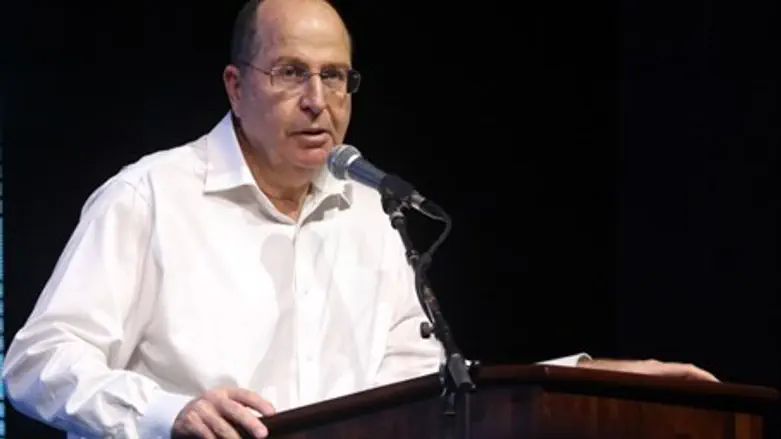 Defense Minister Moshe Ya'alon
Flash 90
Defense Minister Moshe Ya'alon held a press briefing Monday, during which he addressed a wide range of issues, including Israeli intelligence vis-a-vis the Metrojet flight downed last week, the Duma home arson, and the destruction of the Ayelet HaShachar synagogue in Givat Ze'ev. 
Ya'alon began by noting that Israel views the downing of the Metrojet flight as "most likely a terror attack." 
"We are not involved in the investigation, but our understanding is that an explosive charge blew up the plane," he said. Ya'alon did not refer to a CNN report Sunday that Israel passed on to global intelligence information that Islamic State (ISIS) may have planted a bomb on board. 
He also noted that the defense establishment allegedly knows who torched the Dawabshe family home in the Palestinian Authority (PA) village of Duma in July, but that the legal process has been slow. Administrative detention orders and restraining orders have been issued against the suspected perpetrators. 
"This is a group of Jewish extremist fanatics who want to re-establish a kingship and rule according to Torah law, and decided to do something as a 'price tag' attack," he added. 
Ya'alon then accused other MKs of fanning extremism against security sources, referring to the tense situation surrounding the slated destruction of the Jerusalem-area synagogue. 
"Support for these young men, who throw urine bags and rocks at security personnel, [support] from politicians - they are the seeds of destruction," he said. "It is not surprising then that they take the law into their own hands."
Ya'alon then implicated part of the blame to the Givat Ze'ev Municipal Council, claiming his Defense Ministry offered the local synagogue - which is slated for destruction after 20 years, triggering local anger - a temporary building, but was refused.