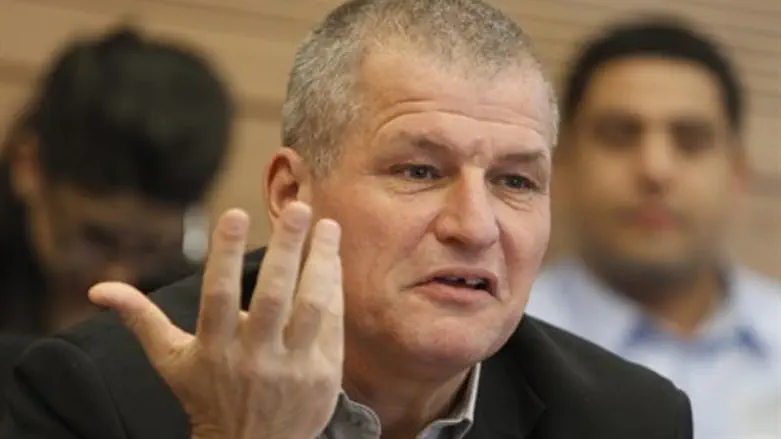 MK Mickey Rosenthal (illustrative)
Flash90
Zionist Union MK Mickey Rosenthal issued a sharp attack of his own faction Saturday night ahead of a Labor Party convention Sunday to vote on adding 450 new activists to the party's central committee. 
In an angry letter to the committee, Rosenthal blasted the decision to "once again" convene a meeting on procedural matters instead of the "fundamental and substantive issues."
"For many years now, our party has faltered in creating an agenda relevant to the Israeli public," Rosenthal charged. 
"Our grand past - settlements, security, Jewish labor and the welfare state - all were born in the womb of ideas of the labor movement," Rosenthal continued. "Unfortunately for the last decade, all we have been saying is 'no' to the Right and 'no' to their path."
We have struggled to "create a new ethos, original and sweeping, actual and relevant ideas in light of the demographic changes in Israeli society and in the face of a changing reality...We're barely even on the playing field."
Rosenthal's attack comes amid renewed speculation Labor leader Yitzhak Herzog may join Prime Minister Binyamin Netanyahu's government.
The new additions to the central committee include loyalist MKs, mounting suspicion that Herzog could use them to pass through a proposal postponing the May 2016 Labor leadership race by a year, thus enabling Zionist Union to join Netanyahu's coalition.
According to Maariv, the Prime Minister has already offered Herzog seven portfolios - including foreign affairs and justice - and promised to shift coalition policies away from the Right if Zionist Union joins. 
A spokesman for Herzog denied both the report and speculation over the Labor leader's plans.