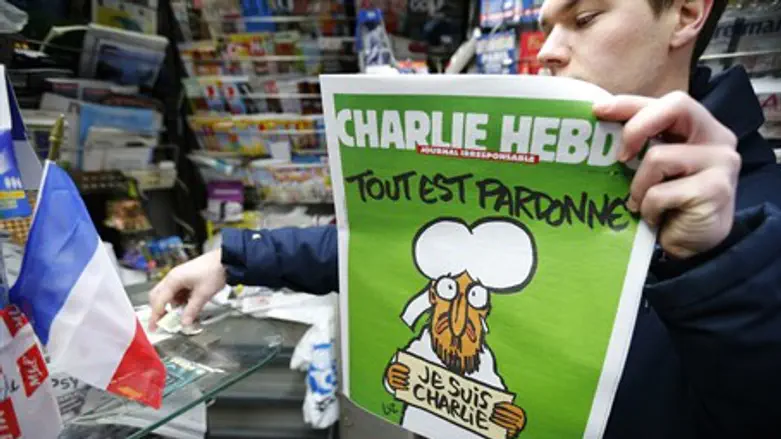 Charlie Hebdo
Reuters
The controversial satirical magazine Charlie Hebdo is under fire again, this time from Russia, AFP reported Friday.
According to the news agency, the Kremlin angrily condemned the magazine for publishing political cartoons on the Metrojet plane crash in the Sinai Peninsula in which 224 people died, most of them Russian tourists.
"In our country we can sum this up in a single word, sacrilege," President Vladimir Putin's spokesman Dmitry Peskov told journalists.
"This has nothing to do with democracy or self-expression. It is sacrilege," he added.
The Kremlin spokesman called the cartoons "unacceptable" but said Russia would not make an official complaint.
One of the cartoons shows debris and human remains raining down on an armed ISIS jihadist, with the caption: "IS: Russian aviation is intensifying bombardments," a reference to its air strikes in Syria.
Another shows a skull with a pair of sunglasses hanging off it with the crashed plane in the background.
It is titled "The dangers of Russian low-cost airlines", and the speech bubble says "I should have taken Air Cocaine," a reference to a current scandal over French pilots smuggling drugs from the Dominican Republic.
Jihadist gunmen shot dead 12 people in an attack on Charlie Hebdo's offices in January enraged at its cartoons of Prophet Mohammed.
The offices of Charlie Hebdowere also firebombed by suspected Islamists in 2011 when it published other cartoons making fun of Mohammed, causing no injuries.
According to AFP, Russian state television news gave lengthy coverage to criticism of the Charlie Hebdo cartoons, which it did not show.
But the magazine's editor-in-chief Gerard Biard hit back, slamming the Kremlin for "using Charlie Hebdo to create a controversy where none exists -- which is the usual manipulation you get from totalitarian regimes."
Russian authorities had also tried to misrepresent it when Putin opponent Boris Nemtsov was shot near the Kremlin in February, he claimed.
"This is not new... They said he (Nemtsov) was killed because he supported Charlie Hebdo," Biard told AFP, referring to claims that Moscow had attempted to deflect the blame onto Islamist militants.
"This magazine is supposed to be irreverent. And we respect the values of democracy and freedom of expression which the Russian powers that be in this case do not," he added.
"Their argument about sacrilege is absurd. Are we supposed to no longer comment on the news in a different way or to say nothing more than it's sad? If so that becomes a problem for freedom of expression."