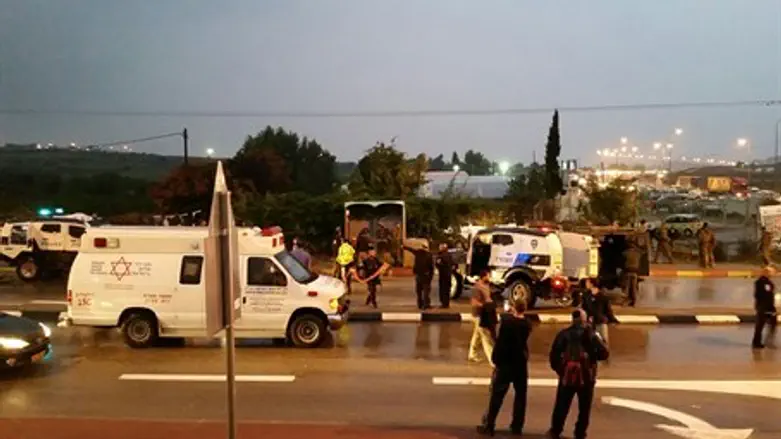 Site of Gush Etzion stabbing attempt
Gush Etzion regional council spokesperson
An Arab terrorist was shot dead on Thursday afternoon after he tried to conduct a stabbing attack at a bus station in Gush Etzion Junction, located in Judea.
The terrorist approached the bus station in the direction towards Alon Shevut, but fortunately was unable to wound anyone before IDF soldiers stationed at the site spotted him and began to arrest him as a terror suspect.
They shot and eliminated him after he whipped out a knife and tried to stab them.
Large police and IDF forces were dispatched to the junction, and traffic was blocked to vehicles in the area following the incident.
The site has been a common target for Arab terrorists.
Just last Wednesday a woman was stabbed in her back by a terrorist as she was in the parking lot of a chain of the popular Rami Levy supermarket at Gush Etzion Junction. Miraculously the knife just barely missed her spinal cord and vital organs, and despite being moderately wounded she has already recovered from her wounds.
The junction has also seen car attacks, including one late last month in which two people were wounded.
In recent days the wave of Arab terrorist attacks has seen a slight lessening in intensity, but potentially fatal attacks still occur on a near daily basis.
Just yesterday on Wednesday, a Border Police officer was critically wounded in a car attack by a terrorist from Hevron in the Halhoul region just south of Gush Etzion. The terrorist was shot dead and his body was returned by Israel for a massive celebratory funeral.