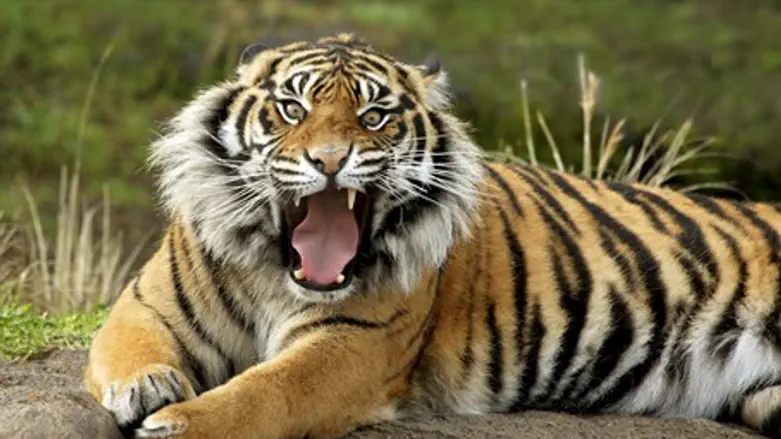 Tiger (illustration)
Thinkstock
People have been known to do stupid things while drunk, but one Omaha woman set the bar a little higher on Sunday when she decided to head down to the zoo while intoxicated - and pet a tiger.
Before opening hours at the Henry Doorly Zoo on Sunday morning, 33-year-old Jacqueline Eide of Omaha, Nebraska, managed to infiltrate the facility despite her drunken stupor, according to a police statement cited by the Washington Post.
In her inebriated state she decided to pet a massive, lethal tiger - it goes without saying that the plan didn't go off without a hitch.
After reaching the tiger cage, Eide stuck her hand in to drunkenly pat one of the enormous felines, which promptly bit her, causing severe trauma.
It is believed that the cat that bit her - after being provoked by the drunken woman - was Mai, a tiger from Malaysia who lost her front left leg in a poacher's trap and reached the zoo back in 2003 after having her leg amputated and after undergoing rehabilitation.
Now 18 years old, the tiger is one of the older cats in the zoo and is generally friendly, apparently unless visitors to the zoo try to suddenly put their hands on her through the cage.
Eide was rushed to Creighton University Medical Center by a friend, and remains at the hospital for treatment of her hand.
Aside from her wounds, Eide has also been cited by police for criminal trespassing, is accused of being aggressive towards hospital staff, and as police clarified in a severe understatement, "showed signs of intoxication of alcohol and/or drugs."
As for the tiger, many concerned people took to the Facebook page of the zoo to ask that the feline not be put down over the totally avoidable situation.
"Thank you everyone for your concerns about Mai, our Malayan tiger. Mai will remain on display as normal and go about life as usual. No action will be taken against her," reassured the zoo on its Facebook page Sunday evening.