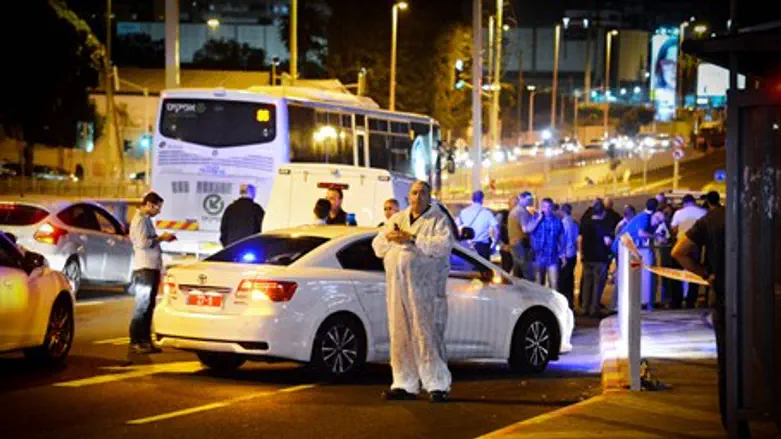 Scene of Petah Tikva attack
Flash 90
An indictment was submitted on Friday against Tamer Waridat, the 25-year-old terrorist from Dahriya near Hevron who conducted the stabbing attack on October 7 in the central Israeli city of Petah Tikva.
The terrorist was indicted for attempted murder and illegal entry to sovereign Israeli territory.
In the attack, he charged at a group of people getting off a bus in central Petah Tikva, stabbing one victim in the upper body and lightly to moderately wounding him before his knife broke, and he was overpowered by security guards and other passersby.
According to the indictment, over the last two years the terrorist frequently stayed and worked illegally at a barber shop in Kafr Qassem, located just northeast of Petah Tikva.
While staying in sovereign Israel without a permit, he decided to launch an attack to murder Jews, and therefore obtained a knife and hid it in his pants pocket. He picked central Petah Tikva as a target given the high concentration of potential Jewish victims.
Before setting out from Kafr Qassem to launch the attack, Waridat left a letter written in Arabic at the barber shop, addressed to his parents. 
"(Al-)Aqsa you are not alone," he wrote in the letter, declaring the need to "defend" the mosque on the Temple Mount, and his decision to become a "martyr," while asking his parents' forgiveness.
At the end of the letter, the terrorist drew a heart, and in it wrote: "the Aqsa in our hearts." He then got on a bus for Petah Tikva.
Once there the terrorist took up a position in front of Ofer Mall and picked out a Jewish victim. He snuck up behind the man, whipped out the knife and while shouting "Allahu akbar" (Allah is greater) and "Al-Aqsa" forcefully stabbed him repeatedly.
The victim began struggling with his attacker, and during the clash the knife broke. Passersby began gathering and trying to help fight off the terrorist.
At that point, Waridat began to flee the scene, but after a short pursuit the civilians trapped him and threw him to the ground, until police arrived to arrest him.