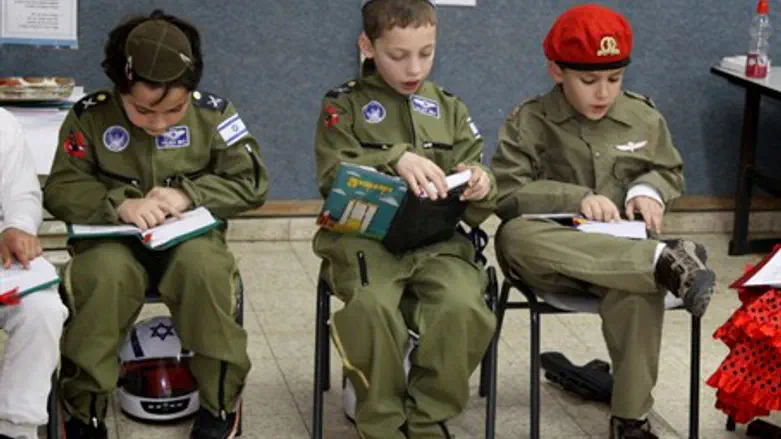 IDF soldier costumes (illustration)
Gershon Elinson/Flash 90
US retail giant Walmart already conceded to criticism of supporting the "occupation" by withdrawing an IDF soldier Halloween costume from its site, but Arab-American groups are continuing their offensive against the holiday outfit.
The costumes are still being advertised Wednesday by other retailers, including Amazon and eBay. In response, Arab and Muslim groups in America are now pressing to demand their immediate withdrawal from all outlets.
The American-Arab Anti-Discrimination Committee (ADC) welcomed Walmart's decision to withdraw the costumes and joined other pressure groups in calling on other retailers to follow suit.
"The costumes are very problematic and offensive to many people," said ADC president Samer Khalaf. "Such a symbol of fear, violence and a long history of dispossession should not be used for entertainment purposes."
Amazon is selling the IDF costume for $29.99. The outfit has a two-star rating and has attracted a slew of negative remarks on the website branding it "disgusting."
Ironically, the IDF costume is one of numerous military uniform costumes being offered for Halloween, including a Navy SEAL costume, and yet only the defense force of the Jewish state has elicited such harsh condemnation.
Ibrahim Hooper, spokesman for the Council on American-Islamic Relations (CAIR) - which has been reported to be a Hamas front - told AFP that "it seems to be a perennial thing, that every year around this time, there is an offensive, racist Halloween costume that has to be challenged."
"Given that Israeli soldiers are currently abusing Palestinian civilians and have been...I think it's very inappropriate to have this as a children's costume," he said, in a twist of the currently reality in which Arab terrorists are launching daily terror attacks against Israelis.
ADC and CAIR welcomed Walmart's decision, and joined the US Palestinian Community Network (USPCN) to demand Amazon, eBay and Sears Marketplace follow suit.
Walmart, Amazon and eBay did not immediately respond to a request to comment.
AFP contributed to this report.