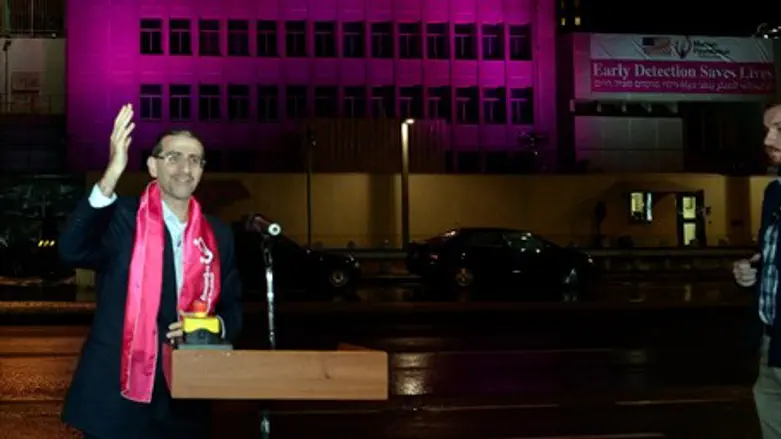 Dan Shapiro lights up US embassy in pink
Matty Stern/ U.S. Embassy, Tel Aviv
US Ambassador to Israel Dan Shapiro held a ceremony Tuesday, to illuminate the walls of the Embassy in pink to promote Breast Cancer Awareness Month. The seaside wall of the Embassy will be illuminated from 6 to 9 pm every night, from October 27-31. 
"I am delighted that the US Embassy will be participating in this great Miriam Foundation project," said Ambassador Shapiro. "We join institutions throughout Israel and around the world to shine a light – a pink light! – on efforts to prevent and treat breast cancer."
"Together, through this symbolic gesture, we're underscoring our hope that all women enjoy the gift of a long, happy and healthy life," Shapiro declared.
October is Breast Cancer Awareness Month.  Breast cancer is the most common cancer in women worldwide, and it does not discriminate – it attacks Americans and Israelis of all ages, income levels and backgrounds. The disease constitutes one-third of invasive malignancies in Israeli women. 
An Israel Cancer Association (ICA) study released on October 1, based on 2012 figures from the Health Ministry's Center for Disease Control, revealed that that the morbidity of breast cancer in Israel has dropped dramatically due to early detection programs. 
Some 21,155 women who were diagnosed with breast cancer between 2008-2012 survived the disease, the study revealed - and survival rates are relatively high: 87.2% of Jewish women and 78.4% of Arab women survive breast cancer for five years beyond the first diagnosis.