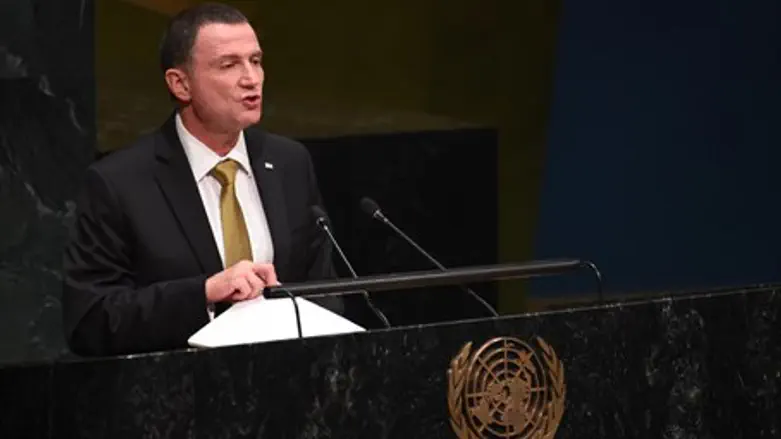 Edelstein speaks at the UN
Shahar Azran
Knesset Speaker Yuli Edelstein expressed skepticism on Sunday morning to the efficacy of placing cameras on the Temple Mount. 
US Secretary of State John Kerry announced on Saturday that Israel had agreed on steps to calm tensions over the Temple Mount, including Jordan's suggestion to install 24-hour security cameras. 
"This will provide comprehensive visibility and transparency and that could really be a game changer in discouraging anybody from disturbing the sanctity of the holy site," Kerry asserted.
However, Edelstein argued, if the Palestinian Authority were to control these cameras, there is no guarantee they would not forge images for the purpose of incitement against Israelis.  
"It's not easy to change the status quo on the Temple Mount," Edelsten said in an interview with Kol Barama. "The moment a large portion of the public and the rabbis say it's forbidden to ascend to the Mount - it's hard to blame the Israeli leadership for not leading."
Edelstein noted his favor for cameras on the Temple Mount, but stressed this was dependent on who would be in charge of monitoring the results. 
"If the Palestinian Authority were to control the photographic results, they would show false photographs of Jews praying, even stabbing [Arabs]," he charged. 
Prime Minister Binyamin Netanyahu is expected to introduce the Jordanian initiative at his Cabinet meeting in Jerusalem on Sunday.