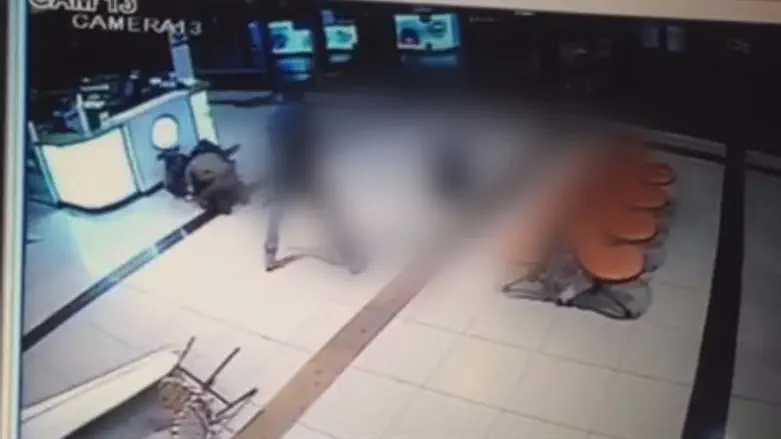 Shooting Haftom Zarhum during Be'er Sheva attack
Security cameras
An autopsy of the Eritrean infiltrator who was mistaken as an accomplice in the terrorist attack at Be'er Sheva's Central Station on Sunday reveals he died from being shot by a Bedouin security guard, and not due to angry passersby who afterwards beat him.
The Abu Kabir Forensic Institute conducted the autopsy on the illegal immigrant Haftom Zarhum, whom the security guard and passersby mistook for being an accomplice of Muhaned Al-Okabi, a Bedouin Arab citizen of Israel who conducted the shooting attack in which 19-year-old IDF soldier Omri Levy was murdered and nine others were wounded.
Forensic experts informed the police that Zarhum's body had several gunshot wounds as well as signs of violence from the crowd that kicked him, but it was the gunfire that caused his death, reports Channel 2.
The finding is significant given that police announced it would prosecute the citizens who struck Zarhum as he lay shot on the ground, thinking he was a terrorist.
Given that the gunshots by the Bedouin security guard - and not the blows of the crowd - caused the man's death, there is a greater chance that the citizens will not be tried.
It was reported on Tuesday that the IDF is investigating the soldiers who were at the station during the sudden attack and fled the scene instead of confronting the terrorist. Military police are also investigating if soldiers were involved in beating the Eritrean infiltrator with an eye towards putting them on disciplinary trial.
Zarhum's mistaken killing has been highlighted in international media, accompanied by allegations that "racism" was involved in his death, even though, as noted, the civilians who struck him believed he was involved in the brutal terrorist attack that had just threatened their lives.