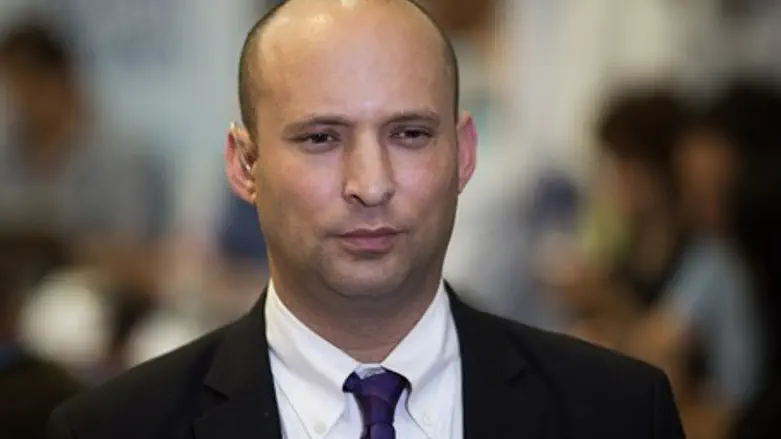 Naftali Bennett
Yonatan Sindel/Flash 90
Education Minister and Jewish Home chairman Naftali Bennett met on Monday with MKs and party members to discuss ways to battle the current terror wave Israel is facing.
The best way to do that, he said, is not with the defensive concrete walls that the government has begun putting up around Arab neighborhoods in Jerusalem – but with an offensive "wall of deterrence," which the government would put up with actions that make it clear that terrorists and those who assist them will pay the price for their actions.
"When such a wall is built, terrorists will know that neither they, nor the house they emerged from on their way to the attack, will survive."
Prime Minister Binyamin Netanyahu backtracked on a decision Sunday to post temporary concrete walls at the southeastern Jerusalem neighborhood of Armon Hanatziv, in order to block Arab terrorists from the adjacent Jabel Mukaber. In response to the public outcry over the move – with many accusing the government of "practicing" to "divide Jerusalem" - Netanyahu on Monday morning ordered not to build more walls at friction points in Jerusalem.
If Israel is hoping that concrete barriers will protect citizens, it is hoping in vain, said Bennett. The only "wall" that will work is a clear one that the government builds to deter terrorists from undertaking attacks. "This wall demands that incitement be ended, and that terrorists are shot dead before they have a chance to hurt innocent people. It means that a terrorist who is shot will be dead and never walk again. It means that Israel remains in control of its homeland forever, unmoved by terrorism."
If there was one political outcome of the terror wave, it was the end of the "dream" of a Palestinian state. "Terrorists do not deserve a state," Bennett said. "Our wall of deterrence must ensure that they understand this.
"This wall of deterrence is the only way to deal with terror," Bennett added. "It will not be easy, but in a century of Zionism, nothing has been easy."