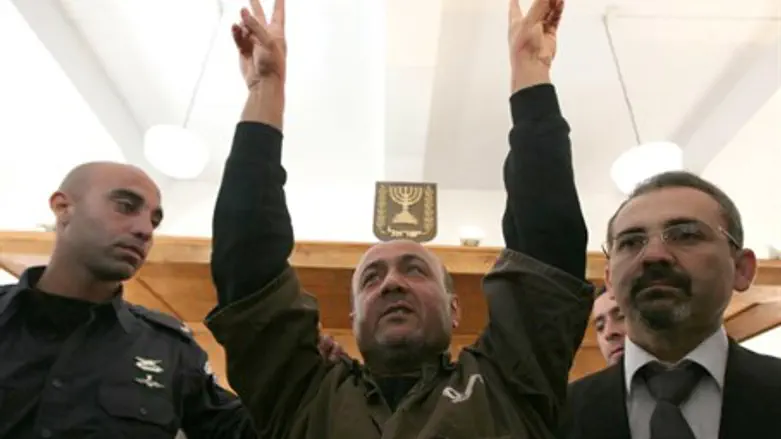 Marwan Barghouti
Flash 90
Attorney Doron Nir Tzvi sharply condemned the Israel Prison Service (IPS) on Monday, after IPS announced that the Fatah arch-terrorist Marwan Barghouti received only a warning for writing a pro-terror incitement piece published last week in the British The Guardian.
Nir Tzvi of the Honenu legal aid organization wrote a sharp letter to the ISA on Monday, after his complaint to the ISA on Sunday regarding the incitement warranted only a terse response.
"As if it wasn't enough that the prisoner smuggled an article to The Guardian site, he continues to make a mockery of various sources in the IPS, and 'explains' to them that the article was published in his name but it was a 'mistake,' and he basically isn't the one who wrote the article," wrote the attorney.
Barghouti, 56, was sentenced to five life sentences in 2002 after being convicted of multiple murder and attempted murder charges in Fatah terror attacks. He is considered a founder of "Tanzim," one of Fatah's armed terrorist factions, and has continued to exert great influence within the party even from prison.
In his article, the terrorist wrote: "we cannot coexist with the occupation, and we will not surrender to it," while saying peace talks are futile.
"Unfortunately, this isn't the first time that the prisoner Barghouti succeeds in publishing serious incitement from his cell walls, and in similar incidents in the past no significant sanctions were employed against him," wrote Nir Tzvi.
Noting past incidents in which Barghouti smuggled out messages from Hadarim Prison, the attorney recounted, "for his murderous messages calling for a third intifada he was given the ridiculous punishment of seven days in solitary confinement and a fine of a few hundred shekels."
Nir Tzvi demanded that the IPS investigate the involvement of sources within the IPS who may have been involved in Barghouti's smuggling of his messages, that it investigate who visited Barghouti near the time of the article's publication, and he further questioned whether Barghouti can be left at Hadarim Prison in light of its failure to stymie his incitement.
"Is it fitting to leave the prison Barghouti in Hadarim Prison despite his success in smuggling out violent messages time and again from the walls of the prison?," posed the attorney.
"Does the IPS lack the tools to prevent the prisoner Barghouti from smuggling out messages calling to act with violence against citizens of Israel?," he added, noting that based on the response he receives to his letter he will weigh his next steps on the matter.