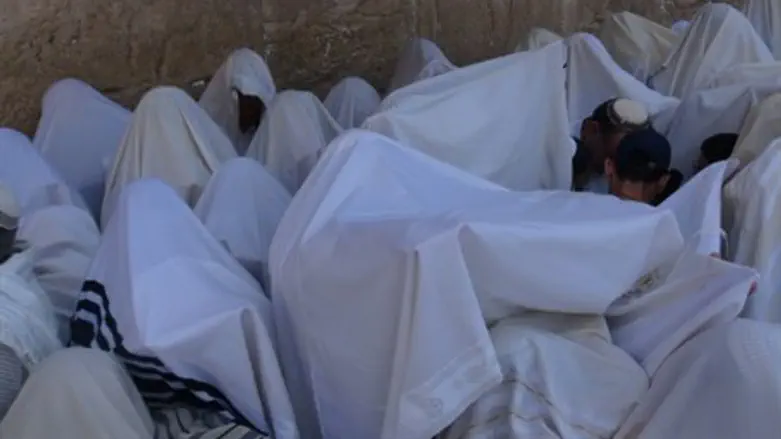 Kohanim perform blessing (file)
Yoni Kempinski
The current terror surge is creating demand for rabbinical decisions on unique issues, the latest of which is – may a Kohen, or member of the priestly class, recite the priestly blessing of peace during prayer, if he has killed a terrorist?
Chief Sephardic Rabbi, Rabbi Yitzhak Yosef, was asked to pronounce his opinion on the matter, during a call-in program on the public Moreshet radio station.
A soldier, who serves in the Border Police, told the rabbi that he is a Kohen, and that he recently shot to death a terrorist who tried to stab civilians in Jerusalem.
"May I continue to raise my hands [in blessing]? Because there are opinions that say that even a person who has killed a gentile is forbidden to raise his hands and recite the priestly blessing," he asked.
Rabbi Yosef said that indeed, Jewish Law – or Halacha – states that a Kohen who has killed a gentile without reason may not deliver the priestly blessing. However, he added, in this case, the killing was carried out in self-defense, according to the Talmudic maxim that states – "when someone comes to kill you – kill him first." Therefore, he may carry out the blessing.
"When a Kohen is confronted by a terrorist, there is no greater compulsion than this, and if he killed him, he was performing a mitzvah by killing a terrorist, may God bless him and he can raise his hands [in blessing] without fear," the rabbi said.
Rabbi Yosef added words of encouragement for soldiers and police stationed throughout Israel in this time of crisis and urged them "not to fear those who speak against them, because they are right to be doing what they are doing."
Rabbi Yitzhak Yosef
Flash 90
Rabbi Meir Mazuz, one of the most senior rabbis in the Sephardic world, last week urged Israeli bystanders to kill terrorist attackers rather than capture them alive.
Rabbi Mazuz ruled that there was an "obligation for Jews to kill terrorists before they kill us. When faced with a cruel enemy, they must be treated in a like manner. We cannot pity them, because they will not pity us."
Rabbi Mazuz's ruling follows a similar one by Tzfat Chief Rabbi Shmuel Eliyahu.
"We must not allow terrorists to survive their attacks. If you leave him alive, there is a fear that he will be released and kill other people," Rabbi Eliyahu stated last Friday.