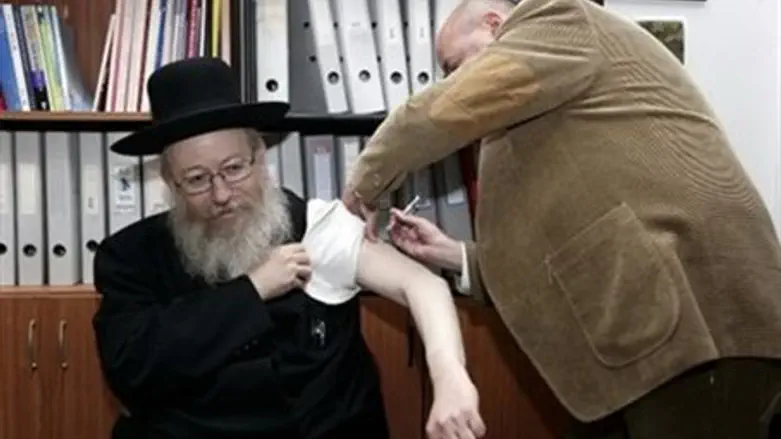 Min. Litzman receives flu shot (file)
Flash 90
Health Minister Ya'akov Litzman (UTJ) received his flu vaccination Sunday in front of reporters' cameras, as the health system establishment prepares for winter.
The Health Ministry directed hospitals to beef up the staff in emergency rooms and busy wards, in preparation for winter, and to vaccinate all health establishment employees.
However, according to Yisrael Hayom, only about one in four doctors actually take the flu shots. Unlike previous years, hospitals will not set a numerical goal for the number of doctors to be vaccinated, but employees who refuse to receive the shots will be asked to sign a refusal form, in which they will acknowledge that refusing to receive the treatment could risk their health and that of their patients.
According to Dr. Vered Ezra, Head of the Medical Administration in the Health Ministry, "health establishment employees have a special duty to receive vaccinations against the flu, because they could transmit the virus to other staff members, to patients, and especially to patients with a damaged immune system, babies, preemies, elderly people, women in labor and others."
Hospitals are required to add a specialist doctor to emergency rooms in the evening hours starting in November, and to add two nurses to morning and evening shifts, and one nurse to the night shift.
Staff is also to be beefed up in internal wards that reach 100% capacity, or which have three or more patients who are connected to artificial respirators.