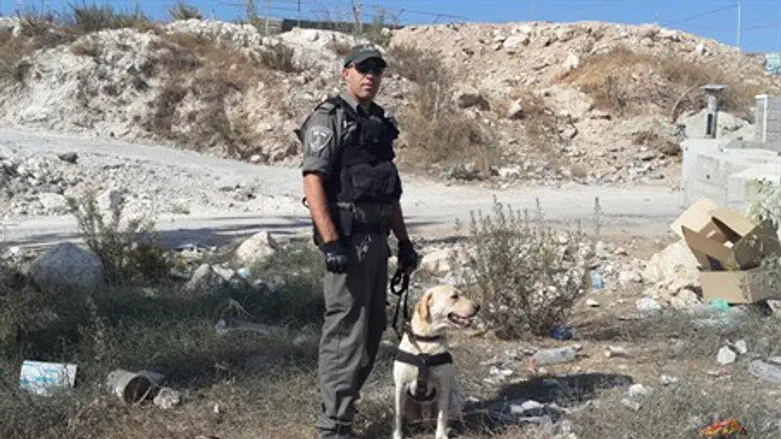 Canine specialist by Isawiya checkpoint
Police Spokesperson Unit
A police dog on Friday saved the lives of Border Police officers at a checkpoint in the northeastern Jerusalem neighborhood of Isawiya, as it sniffed out a pipe bomb that was meant to murder the soldiers.
As part of the bolstered police and IDF presence in the capital due to the recent terror wave, Border Patrol Sgt. Maj. Erez Cohen arrived with the police dog Taz to help security forces in Isawiya, which is located just north of Hebrew University's Mount Scopus campus.
While scanning the area, the dog located a pipe bomb adjacent to the checkpoint, which Isawiya residents leave through towards the road leading to Ma'ale Adumim east of the capital. Reserve duty Border Patrol forces are stationed at the checkpoint to check residents passing in and out, so as to prevent terrorist attacks in the capital.
A bomb squad was called to the site, and after confirming the pipe bomb was indeed armed and lethal, the area was sealed off and the explosive was set off in a controlled detonation.
The explosive was powerful enough to murder security forces, or Arab residents passing through the checkpoint.
Sgt. Maj. Chaim Segev, commander of the Border Police canine squad in Jerusalem, said, "we are ready for exactly this type of incident; it is quite likely that the actions of the canine expert who located the explosive before it was used against security forces on the site saved lives."
"The officers acted with self-sacrifice for the security of residents of the capital and its many visitors, and they deserve great appreciation," said superintendent Aviad Katafi, commander of the Kedem Brigade.
"We will continue to conduct the missions with professionalism and firmness to return the quiet and security," added Katafi.
Pipe bomb
Police Spokesperson Unit