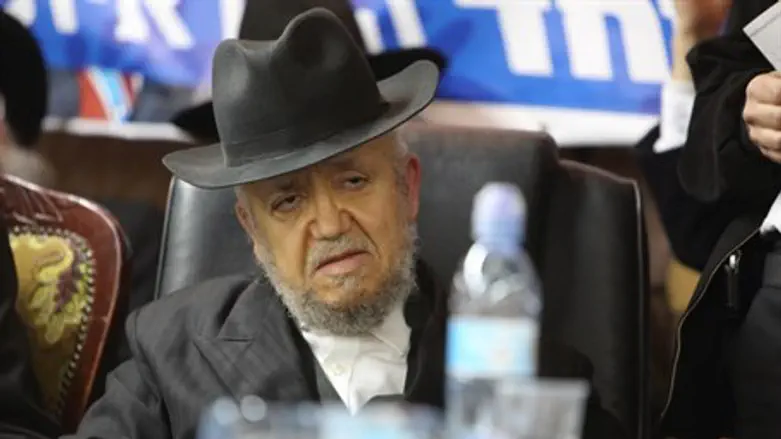 Rabbi Meir Mazuz
Yaakov Naumi/Flash 90
Rabbi Meir Mazuz, one of the most senior rabbis in the Sephardic world, has become the latest prominent rabbi to urge Israeli bystanders to kill terrorist attackers rather than capture them alive.
Rabbi Mazuz ruled that there was an "obligation for Jews to kill terrorists before they kill us. When faced with a cruel enemy, they must be treated in a like manner. We cannot pity them, because they will not pity us."
The comments were made in the context of a scholarly article penned by the rabbi, who heads the Kisei Rachamim Yeshiva and served as spiritual leader to the Yachad party which unsuccessfully ran for the last Knesset, about the current security situation. "At this time, as Jewish blood is being spilled, we have an obligation to rise up and kill those who seek to kill us before they have an opportunity to do so."
The real purpose of Arab terrorists, he said, was to drive the Jews out of their Land, and they could not be allowed to get away with this. "We must look at them as enemies, and must not have mercy on them. Strong punishments discourage terrorism, deflating their hopes of victory."
Rabbi Mazuz suggested instituting the death penalty for terrorists. "The authorities are responsible for ending this murder, for instilling fear in the hearts of terrorists and destroying their ability to act. We demand that the government fulfill their obligation," he added.
While Israeli law technically does allow for the death penalty, it has not been used in practice other than in the execution of Nazi war criminal Adolf Eichmann in 1962.
Rabbi Mazuz's ruling follows a similar one by Tzfat Chief Rabbi Shmuel Eliyahu.
"We must not allow terrorists to survive their attacks. If you leave him alive, there is a fear that he will be released and kill other people," Rabbi Eliyahu stated last Friday.