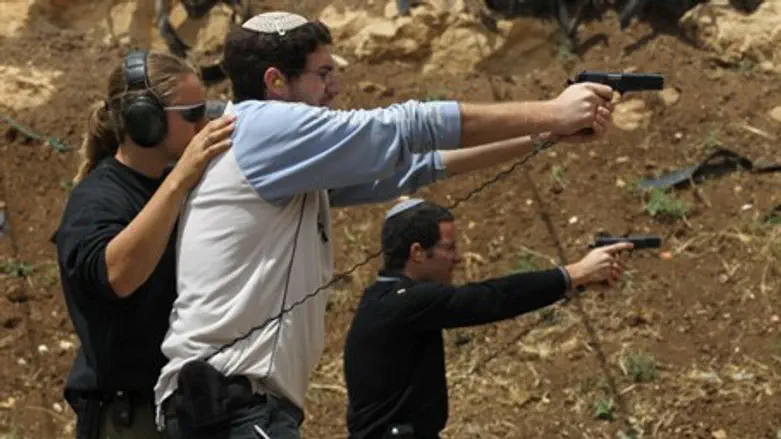 Shooting range (illustrative)
Flash90
The Israeli government has relaxed gun licensing laws, enabling more Israelis to defend themselves in light of ongoing attacks by Arab terrorists.
In a Facebook post Wednesday, Internal Security Minister Gilad Erdan announced that he had enacted a number of changes to existing laws, as authorities struggle to deal with the violence, much of which has centered around Jerusalem.
The changes include scrapping restrictions on serving or reservist IDF officers from obtaining private firearms, as well as individual citizens who have undergone security training, for example to serve as security guards or police.
But most notably, the government will now allow certain local councils to distribute gun licenses to individuals either living or working in the area, instead of forcing applicants to travel to one of a handful of Internal Security Ministry offices currently able to do so.
"For example: In Jerusalem, the local council will be able to grant a firearms permit to educators in the haredi sector, who have been among the most beleaguered" by the spate of recent attacks, Erdan said.
Arab incitement propaganda commonly features stereotypical Jewish characters dressed as haredim being stabbed, resulting in a disproportionately high number of Jewish victims of Arab violence being haredi. However, most haredim do not serve in the army or other security forces, and few posses firearms licenses.
Despite popular perception, Israeli gun laws are far tighter than in the US, and there is no universal right to bear arms. Most weapons seen in public areas are held by serving soldiers, police or security guards, with only citizens living or working in areas with a higher security risk and fulfiling a number of other criteria being eligible to apply. Even then, private gun permits are restricted to handguns only.
Erdan's announcement came on the same day as Interior Minister Silvan Shalom announced his ministry would be stripping residency status from Arab residents of Jerusalem residents in attacks on Jews.
It follows the bloodiest day in the capital since the latest string of Arab terror attacks - mostly stabbings - began several weeks ago, with three killed and scores wounded in shooting and stabbing attacks.
"Nineteen attackers from east Jerusalem - I think that is the number more or less - will have their residency cancelled," Shalom told public radio.
"I have decided to revoke their residency. They are no longer residents of Israel and will not be able to receive all the privileges."
Some 310,000 Palestinian Arabs live in Jerusalem. Israel has granted them permanent residency status - a blue ID card giving them access to social benefits and health care - but while they have the right to apply for Isreali citizenship most have not done so for political reasons.
Shalom noted that Justice Minister Ayelet Shaked was also pursuing legislation which would bar the families of attackers killed in incidents from receiving welfare benefits.
AFP contributed to this report.