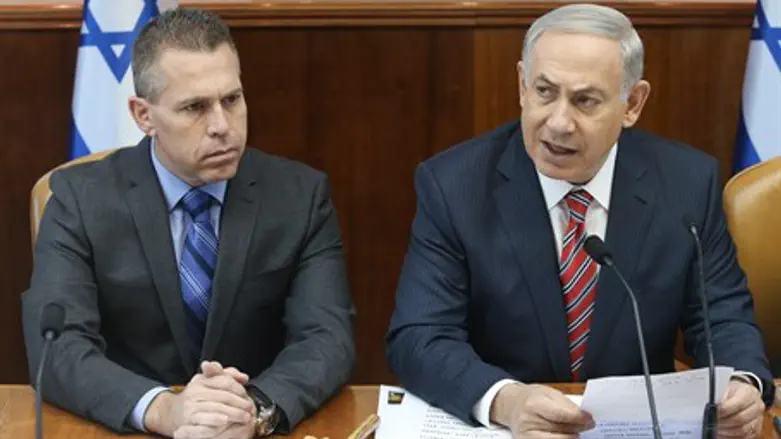 Gilad Erdan, Binyamin Netanyahu
Amit Shavi/Flash 90
The Security Cabinet on Wednesday approved the suggestion of Internal Security Minister Gilad Erdan (Likud) not to return the bodies of Arab terrorists who are killed while conducting attacks to their families.
The Cabinet is likewise considering Erdan's suggestion to bury the terrorists at cemeteries belonging to the IDF that are located at the extreme edges of the country, where terrorists have in past been buried.
Funerals of Arab terrorists have often turned into gala affairs in which the murderous jihadists are feted as heroes, and the suggestion to bury them on Israel's borders is intended to reduce the element of incitement and recruitment contained in their funerals.
"The family of the terrorist turns the funeral into a protest of support for terror and incitement to murder, and we must not allow that," said Erdan. "We must do everything so that the terrorist won't be able to merit honor and ceremonies after conducting an attack."
Illustrating Erdan's point, the terrorist employee of Bezeq who conducted a car attack in central Jerusalem on Tuesday had previously appeared on TV where he gave an interview about the Har Nof massacre last November.
The terrorist was the cousin of the two terrorists who committed that attack, and at the time he noted how the family responded with shouts of joy and began passing out candy.
Late on Tuesday night the Security Cabinet passed a series of security measures, and likewise decided to deploy over 1,000 IDF soldiers to secure Jerusalem.
Prime Minister Binyamin Netanyahu also gave the order to begin construction work to complete the security fence in Judea and Samaria, including the southern Har Hevron region in the south of Judea.