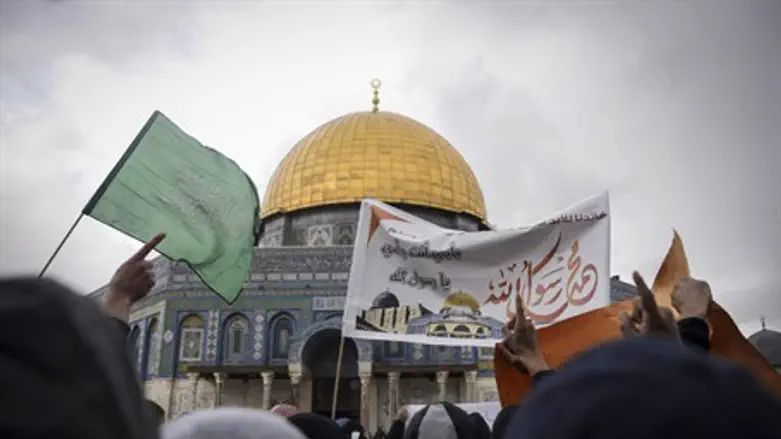 Gazan Hamas-supporters on Temple Mount
Sliman Khader/Flash 90
President Reuven Rivlin attempted to "calm tensions" on Monday, during the opening session of the Israeli Knesset for winter 2015-16. 
Primarily, Rivlin stressed that Israel "is not at war with Islam" and will not change the status quo on the Temple Mount. 
"Recently we witnessed an attempt by political leaders and others to make the Israeli-Palestinian conflict a religious war of no return," Rivlin said. "Anyone who does this, our blood - all our blood - is on his hands." 
"The Jewish people and the State of Israel, was not and will not be at war with Islam," he continued. "Israel does not violate the status quo on the Temple Mount; these are dangerous lies."
"The statement that 'Jews soil the Temple Mount' is unfortunate - we will not tolerate such statements," he added, referring to remarks from Palestinian Authority (PA) chairman Mahmoud Abbas that the Jews' "filthy feet defile" the Mount. 
"Especially in these tense days, we must remember that building trust between Jews and Arabs in Israel and abroad is a necessity," the President emphasized. "The way is long and difficult and there are no shortcuts." 
"Now more than ever we need strong leadership from both sides that does not quail in the face of fear and does not encourage it," he concluded.