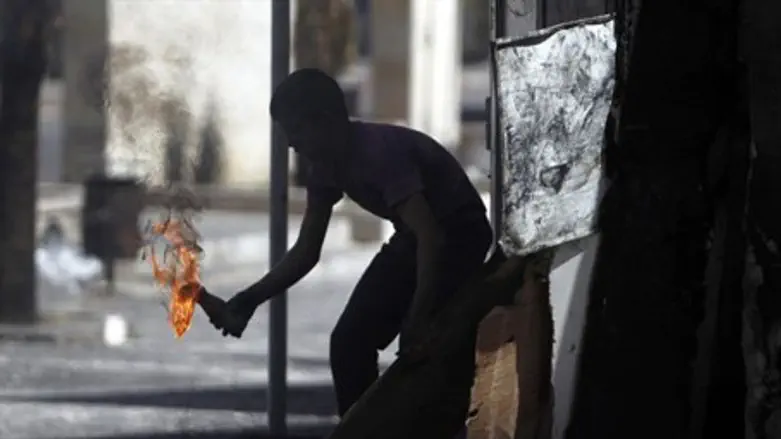 Firebomb (illustration)
Reuters
A man tossed a firebomb inside a Snapple bottle at two yeshiva students as they stood on a Midtown sidewalk in Manhattan, The New York Daily News reported Sunday.
The incident took place on Friday afternoon, according to a witness who spoke to the news website.
The two students, Yosef Rachimi and Yisroel Gadafi, both 20, were standing on W. 37th St. near 9th Ave. when Rachimi suddenly noticed a flash of heat across his legs, according to Barry Sugar, a spokesman for The Jewish Leadership Council, a group that tracks anti-Semitism.
"Everybody was scared," said Saleh Hegazy, a 45-year-old eyewitness who saw the attack as he sat on a bench outside his packing store.
"Some guy put alcohol in a bottle of Snapple. The bottle broke and he left," he added, according to The New York Daily News.
The white male was around 5-foot-8 and was wearing a black and blue t-shirt, Hegazy told the website.
The yeshiva students were on the sidewalk encouraging people to do a mitzvah, Sugar told The New York Daily News, a custom by Chabad Hasidim on Fridays before the Sabbath.
 "It is conceivable that the attacker sees these boys every Friday and prepared this bomb to ambush them," Sugar speculated. "A firebomb is not the kind of thing you have sitting in your car or in your bag unless you have someone to throw it at."
An spokesman for the NYPD said the department is looking into the attack.
While the exact motive for the attack is yet unknown, nor is it known whether the attack is related to the recent terror in Israel, anti-Semitic incidents have been on the rise in the United States recently, with a 21% increase overall in 2014, according to a damning Anti-Defamation League (ADL) report released in March.
In April, shots were fired outside of a synagogue in Nashville, Tennessee. No one was hurt.
In late March, two Jewish teenagers were attacked with paintballs in Brooklyn as they were coming home from synagogue with their grandfather. Several weeks earlier, the car of a rabbi in the city of Dallas was vandalized with a swastika.
Earlier in the year, some 30 homes were spray-painted with swastikas and anti-Semitic expressions in Madison, Wisconsin.
And, in August, two Jewish congregations in San Antonio, Texas, were spray painted with anti-Semitic graffiti.