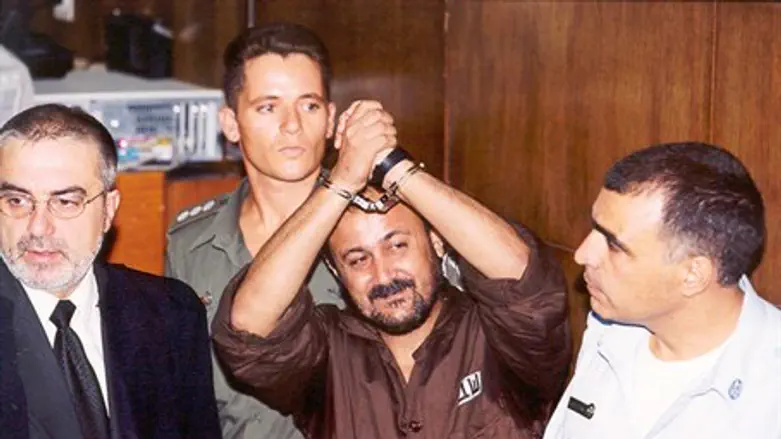 Marwan Barghouti
Flash 90
Arch-terrorist Marwan Barghouti, who is in an Israeli jail serving five life sentences for his role in planning suicide terror attacks in Israel, is blaming Israeli "occupation" for the ongoing terror wave in Israel.
"The current escalation in violence did not start with the killing of two Israeli settlers, it started a long while ago and has been going on for years," Barghouti wrote Sunday in a piece for the British Guardian.
"Every day Palestinians are killed, wounded, arrested. Every day colonialism advances, the siege on our people in Gaza continues, oppression persists. As many today want us to be overwhelmed by the potential consequences of a new spiral of violence, I will plead, as I did in 2002, to deal with its root causes: the denial of Palestinian freedom," he charged.
Barghouti claims that former Palestinian Authority (PA) chairman Yasser Arafat current chairman Mahmoud Abbas were both "ready and able to sign a peace agreement", but Israel "has chosen occupation over peace, and used negotiations as a smokescreen to advance its colonial project."
"Every government across the globe knows this simple fact and yet so many of them pretend that returning to the failed recipes of the past could achieve freedom and peace. Insanity is doing the same thing over and over again and expecting different results," he writes.
"We were called upon to be patient, and we were, giving chance after chance to reach a peace agreement," said Barghouti, who added, "Maybe it is useful to remind the world that our dispossession, forced exile and transfer, and oppression have now lasted for nearly 70 years."
He also blamed Israel for "attacks" against the Palestinian people in Jerusalem and in Muslim and Christian holy sites, notably the Al-Aqsa Mosque, while ignoring the Arab incited riots on the compound which have caused violence.
"Israel's actions and crimes not only destroy the two-state solution on 1967 borders and violate international law, they threaten to transform a solvable political conflict into a never-ending religious war that will undermine stability in a region already experiencing unprecedented turmoil," claimed Barghouti.
"I have spent 20 years of my life in Israeli jails, including the past 13 years, and these years have made me even more certain of this unalterable truth: the last day of occupation will be the first day of peace. Those who seek the latter need to act, and act now, to precipitate the former," he wrote in conclusion.
Barghouti is widely believed to have masterminded the second intifada, which exploded across Israel from 2000 to 2005. He is widely perceived as a popular choice to replace PA Chairman Mahmoud Abbas, whose term in office expired several years ago.
From his jail cell, he has threatened Israel in the past with a third intifada, albeit an unarmed one, and has declared he "would not give up and I claim that the right of return is a sacred right of the Palestinians."