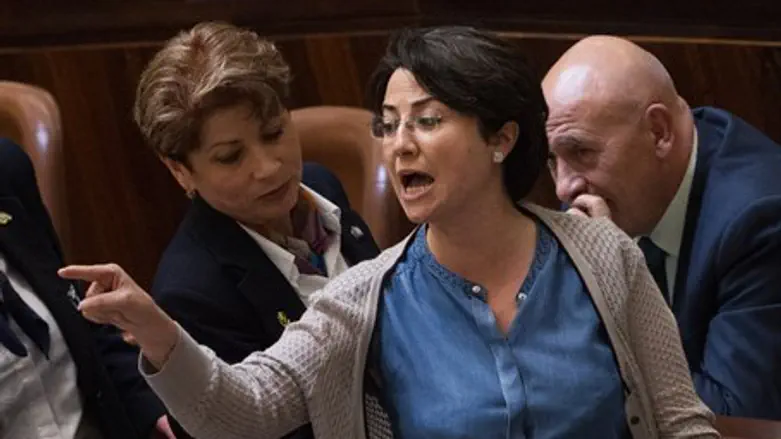 Hanin Zoabi
Miriam Alster/Flash 90
As Prime Minister Binyamin Netanyahu demanded that Arab MK Hanin Zoabi be punished for calling for a "real intifada," Likud MK David Bitan is planning to introduce legislation that would impose fines of hundreds of thousands of shekels on MKs who incite to violence.
Under current regulations, MKs can be docked pay if they miss Knesset sessions due to other work engagements. The new regulation would be an addendum to that law, adding an "ethics" component to the existing law that would invoke the new regulations if an MK made inciteful statements.
According to the new regulation, MKs could be fined as much as six salaries for incitement. The basic salary for a Knesset member is NIS 39,000 ($9,900).
MK Bitan said that "the statements and actions of some Arab MKs, such as Jamal Zahalka and Hanan Zoabi, cannot be allowed to continue. I intend to deal with all those who incite to violence and against the state, by increasing the sanctions against MKs who undertake these activities, especially those from the United Arab List.
"I intend to insert these new regulations to the Knesset Code of Ethics, which under currently under revision," said Bitan. This is the first time that such fines will be imposed on MKs who incite to violence." Bitan added that he would also demand that the Attorney General open an investigation against Zoabi and Zahalka for their recent activities. "I expect police to make a thorough and quick investigation."
Last week, Zoabi said that Arab "resistance" to Jewish activity on the Temple Mount will continue, while also implying that Israel's policies paralleled the Nazi regime. "It's rude and bullying to compare the demand to defend Muslims' right to pray at their holy sight to the Nazi regime. Everyone knows who is closer to the Nazi regime - MK Hanin Zoabi or the State of Israel and Minister [Ze'ev] Elkin," Zoabi told Army Radio. "Every time there is an invasion - and this is an invasion and not a right - of settlers, extremists and police, there will be resistance."
Meanwhile, Zahalka last week harassed police who were allowing Jewish visitors to visit the Temple Mount, going on a rant against police and Israeli officials. "Why do you allow them in?" Zahalka shouts at police officers. "The hell with them, it's just a provocation to hurt the feelings of Muslims. You are criminals, lunatics!" he continues. "You are here in our place [i.e. Muslims - ed.], this is my home."