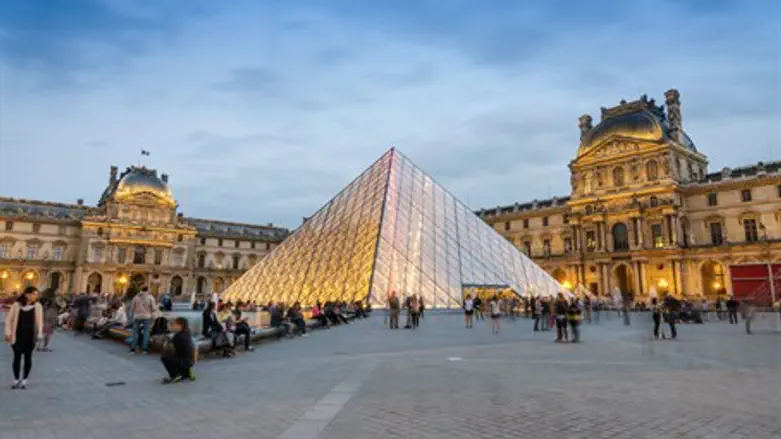 Louvre, Paris (file)
Thinkstock
The French justice system on Friday closed an official investigation into allegations that the Louvre museum in Paris discriminated against Israeli students who wished to visit the world-famous museum, finding no proof to back the claim.
The investigation was closed barring any new information, a judicial source confirmed to the AFP news agency.
In June, François Heilbronn, president of the Association of "French friends of the University of Tel-Aviv," had expressed his suspicions about the way the Paris museum treated Jewish visitors.
He made a formal complaint to the French judicial system.
That month, a professor at the university had tried to make a group reservation for 12 art history students at the Louvre -- which receives nine million visitors per year -- and the Sainte-Chapelle chapel, an architectural marvel known for its 13th century Gothic style that sees one million visitors a year.
His request was turned down. He later attempted to make similar reservations under fictitious non-Israeli names and received a positive response.
According to the judicial source, the investigation did not uncover any form of discrimination however.
In fact, it found that an automated system handled group reservations at the Louvre and that the denial was due to the dates and time periods chosen - which were all full. Reservations made during the "test" bookings were, on the other hand, available.
The Louvre had immediately defended itself against the accusation of discrimination at the time, arguing that with 150,000 group reservation requests per year, or about 400 per day, it had "to refuse nearly 80,000 requests from independent groups every year."
The French Centre for National Monuments (CMN), which runs the Sainte-Chapelle chapel, had cited, for its part, "very heavy visitor numbers" and noted that the two agents tasked with managing reservations did not have "computer-based tools" to work with even though they deal with more than 10,000 visitor requests for about 7,000 available spots.
Anti-Semitism has been on the rise in Europe, and France in particular, in the past year, with acts of violence positively skyrocketing.
In 2014 alone, 164 violent anti-Semitic incidents occurred in France - more than any other European nation. 
AFP contributed to this report.
(Arutz Sheva's North American desk is keeping you updated until the start of Shabbat in New York. The time posted automatically on all Arutz Sheva articles, however, is Israeli time.)