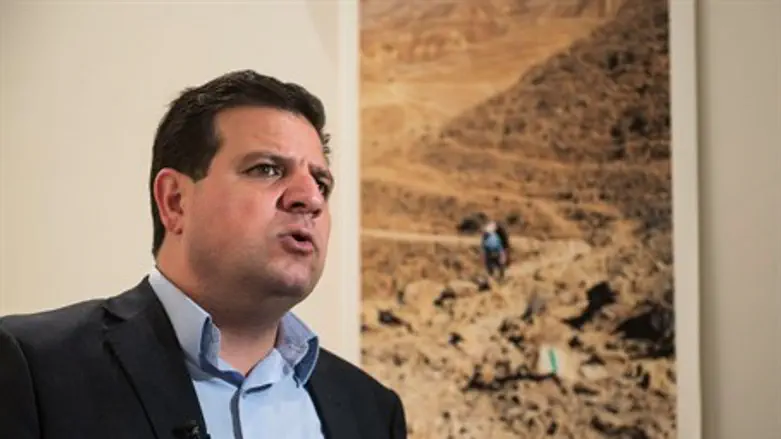 Joint Arab list head Ayman Odeh
Danielle Shitrit/Flash 90
Leftists held a protest in Tel Aviv on Friday, calling to renew peace talks with the Palestinian Authority (PA) in light of the wave of terror attacks striking Israel over the past several weeks. 
Demonstrators chanted slogans such as "the answer to the Right is Israel and Palestine," "Netanyahu, resign - peace is worth more," and "Jews and Arabs refuse to be enemies." 
Several Arab MKs attended the rally, according to Maariv, including Joint List chairman Aymen Odeh, MK Dov Khenin (Joint List), and MK Abdullah Abu Ma'aruf (Joint List).  
"We came here to break the silence and shout in two languages over one policy," Odeh stated. "We say that Jews and Arabs refuse to be enemies."
"We say 'no' to the Occupation, 'yes' to the establishment of a Palestinian state alongside Israel, 'yes' to life together." 
"These are days of a lot of worry, fear and despair," Khenin added. "During these times, it is vital that we hear another voice." 
"The continued occupation and settlement building continues to plunge us into an abyss which has lead to an explosion," he continued. "There is another way. We don't have to deal with the reality of death, fear and hatred: we can free both our peoples from the occupation." 
"We can achieve peace and justice for both peoples in this country, so there will be real hope for a life of security for the children of Afula and the children of Jenin."