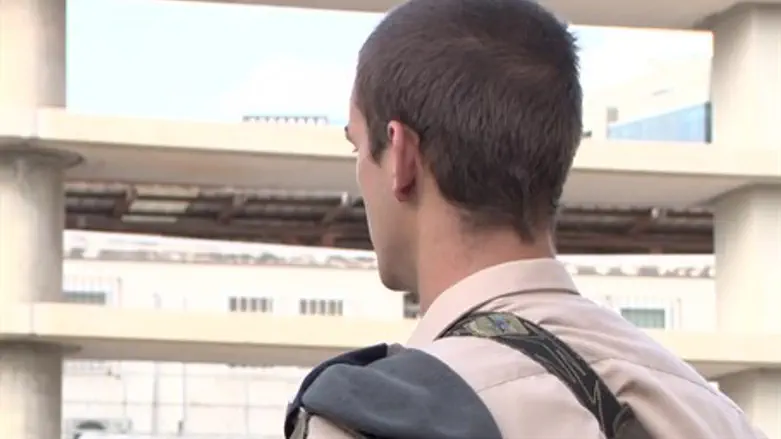 First Lieutenant Daniel
IDF Spokesperson Unit
The Israel Air Force soldier who on Thursday afternoon neutralized an Arab terrorist who stabbed and lightly wounded five Israelis in central Tel Aviv recounted his heroic actions when faced with the attacker.
The soldier, who identified himself as Second Lieutenant Daniel without divulging his last name for security purposes, stated: "I saw a terrorist stab a female soldier and I understood that it was a stabbing terror attack because of recent events in the country.
"I got out of the car and ran at him, and neutralized him from close range," said the soldier.
"It's important that I was at the right place at the right time, and I did what is expected of every combat soldier in the air force and in the IDF in general."
Daniel's testimony in Hebrew can be viewed below.
In the attack, the Arab terrorist - who according to police appears to have been a worker at a nearby construction site - stabbed five people near Azrieli Towers and the Kirya area, in a very central area of the coastal metropolis.
One of the five was a female soldier, who sat on her weapon to thwart the terrorist's attempts to steal it. The Air Force soldier chased him to nearby Mozes street, where he shot and killed the terrorist.
The terrorist was identified as 19-year-old Ta'ar Abu Gazalah, a resident of Kafr Aqb located north of Jerusalem, between it and Ramallah. 
He held a blue teudat zehut identity card, meaning that he had permanent resident status in Israel. Gazalah had no history of terrorist involvement.
The Tel Aviv attack came not long after a similarstabbing attack at the Ammunition Hill light rail station in Jerusalem, in which a 25-year-old yeshiva student was seriously wounded and another man was lightly wounded.
Less than an hour after the Tel Aviv attack, another stabbing took place at the western gate of Kiryat Arba leading to Hevron, where a Jewish man was seriously wounded by an Arab terrorist who fled into Hevron.