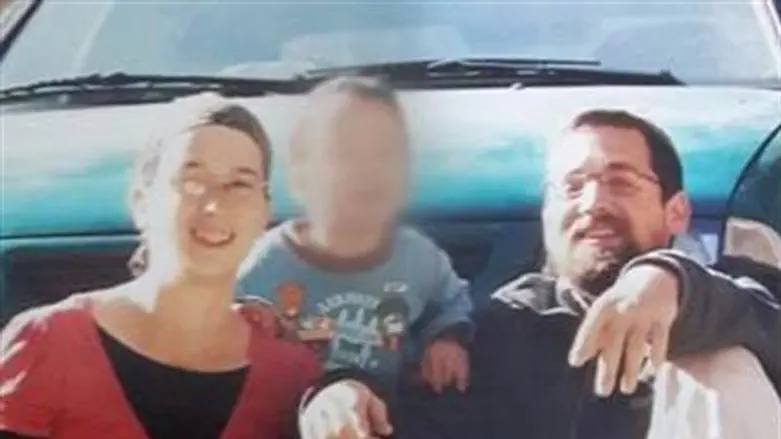 Rabbi Eitam and Naama Henkin
Courtesy of Binyamin Regional Council
Palestinian Arabs have found a new way to express their joy over terror attacks  - distributing photos of the dead bodies of Israeli terror victims alongside Palestinian's smiling faces on social media sites. 
A Palestinian Authority daily reported on the chilling phenomenon earlier this week, according to Palestinian Media Watch. 
The "most significant" photo, reports Al-Hayat Al-Jadida, is that of the dead bodies of young Israeli couple Rabbit Eitam and Naama Henkin who were brutally murdered in front of their four children in Samaria last week. 
According to the daily, the shooting of the couple brings "joy" to Palestinians who view the murders as "heroic."
"Palestinian users of the social networks Facebook and Twitter posted pictures from the scene of the settlement Itamar operation (terror attack in which the Henkin's were killed) south of Nablus, the most significant being the picture of the killed woman settler and her husband, alongside expressions of joy over the operation which they described as 'heroic.'" 
"[Palestinian] citizens expressed their joy over this event," Al-Hayat Al-Jadida concluded. 
A five-member Hamas terror cell from Shechem was arrested for the murders on Monday via a joint operation between the Israel Security Agency (ISA or Shin Bet), IDF, and Israel Police. Several other terrorists involved with the cell were also arrested. 
Investigations revealed that one shooter was accidentally shot by a fellow terrorist in the hand during the attack, possibly the reason the four children, aged four, seven, nine and four months were spared.