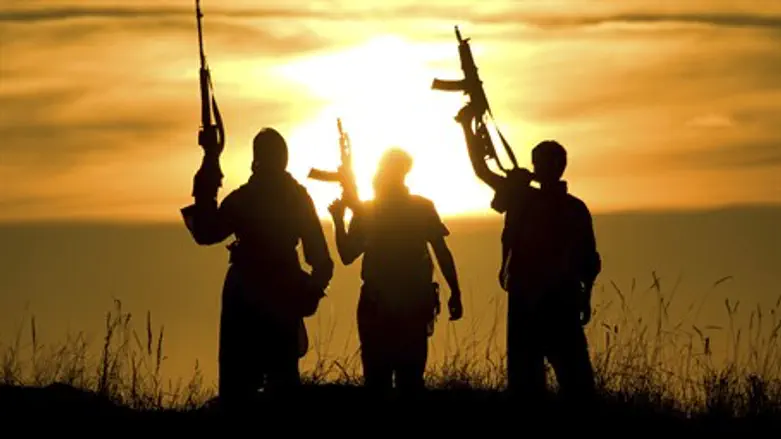 Jihadists
Thinkstock
A new French government ad campaign features mourning families to discourage young people from joining extremists in Syria, an attempt at a counter-narrative against an Islamic State (ISIS) publicity machine that churns out huge amounts of propaganda, The Associated Press (AP) reported Tuesday.
France is one of many countries dealing with the threat of radicalization. More than 500 people have left France to join ISIS and other jihadist groups in the war zones of Syria and Iraq - more than any other country in Western Europe, noted AP.
There have been several attacks by Muslim extremists in France, including the attack at the headquarters of the Charlie Hebdo magazine, the attack on the Hyper Cacher kosher market in Paris and the attack in which a Muslim extremist beheaded his boss in a gas factory.
France has tightened some restrictions, including allowing families to flag their children to law enforcement and put a hold on their travel documents, and set up a hotline for worried parents to call. But still, the departures have accelerated.
"We are not the parents of a terrorist. We are victims," Baptiste, the father of a girl who left for Syria just shy of her 17th birthday, says in one of the four commercials that began broadcasting Wednesday. He and others in the campaign speak directly to the camera and are only identified by their first names.
The video clips "involve families going through a hard time, and send a very strong message to young people tempted to swing to a terrorist commitment," French Interior Minister Bernard Cazeneuve was quoted by AP as having said.
The minister said he also would be rescinding the citizenships of five people linked to terrorism and will ramp up deportations for "preachers of hatred."
Other countries dealing with radicalized locals who join jihadists in Iraq and Syria include Germany, Spain, Sweden, Belgium and Britain, where Prime Minister David Cameron recently announced a five-year plan to tackle home-grown Islamic extremism and help communities integrate in Britain.