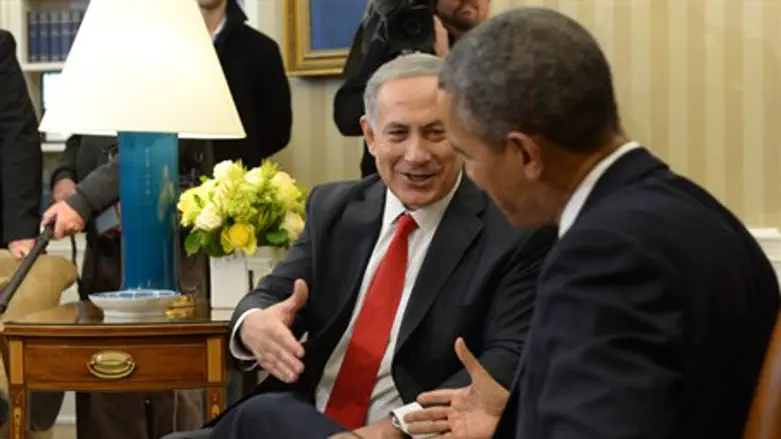 Netanyahu and Obama at the White House
Avi Ohayon/Flash 90
Prime Minister Binyamin Netanyahu expressed during a late-night emergency Cabinet meeting on Monday strong opposition to calls from Jewish Home and Likud ministers to expand construction in Judea and Samaria in response to recent terror attacks.
According to a Channel 2 report on Tuesday evening, Netanyahu explained to the ministers that such an action would place Israel in a difficult political quagmire with the United Nations Security Council. 
Apparently, the White House made clear to Netanyahu that if listened to the Cabinet's demands, the United States would not back Israel in the international body. 
The warning: If Israel approved new construction in Judea and Samaria, the US would refrain from imposing a veto on a looming French draft resolution before the UN Security Council, which would establish "Palestine" and declare "settlements" in Judea-Samaria illegal. 
"We will not jeopardize international support for a declaration of building or expanding construction in Itamar," a senior source in the Netanyahu administration was quoted as saying.
The report further noted that Netanyahu made clear his position in closed-door discussions, saying that "a sober political maneuver is needed, not the actions of high school students. Tweets don't build political processes."
A report in Politico last week revealed that relations had broken down between Netanyahu and US President Barack Obama to such an extent that Obama twice refused to veto a UN resolution establishing a Palestinian state.
According to the report, Democratic Senate Minority Leader Harry Reid asked White House chief of staff Denis McDonough twice this year to have Obama publicly announce he would veto a UN Security Council call establishing "Palestine."
On both occasions, Obama flatly ignored the request.