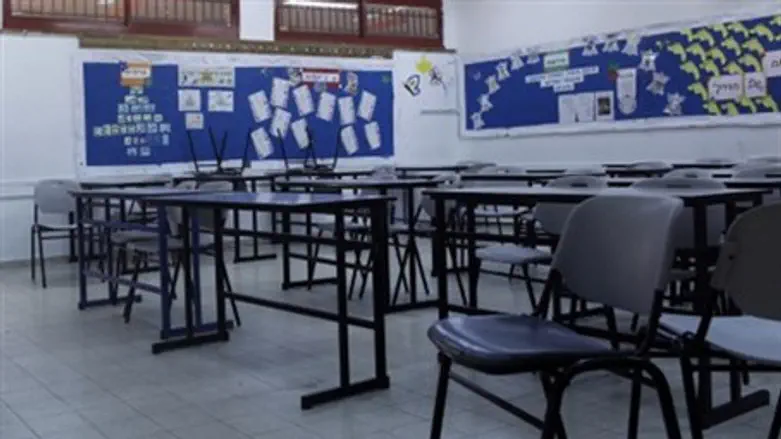 Empty classroom (file)
Flash 90
The Jerusalem municipality and municipal teachers' organization announced on Tuesday that they intend to hold a gradually expanding strike of local schools in the capital starting on Thursday, if the Internal Security, Finance and Education Ministries do not allot budget to secure the schools.
The demand comes in accordance with police recommendations, and in light of the fact that despite the growing wave of Arab terrorism in the capital, the government in recent years cut security at educational institutions to last only until 1:30 p.m. and not in all kindergartens, even though most schools hold classes until 4:30 p.m.
According to the municipality, the strike will begin on Thursday in all schools above elementary level, and will then be extended to additional schools based on need if the government does not respond to the demands.
"We've waited too long to receive an answer on the security budgets for children of the city," said Jerusalem Mayor Nir Barkat. "In the current reality today every additional delay constitutes an abandonment of our children."
Jerusalem teachers' organization chair Paz Cohen added, "we're asking for minimal protection for our children - a responsible and trained adult at the entrance of every educational institution throughout the hours of the day. If G-d forbid a tragedy happens, the budget that will be transferred will be several times as large. So what are we waiting for?"
Not waiting for the strike to officially begin, the parents' council of the Tzviya Yetziratit School in Jerusalem announced the school will strike early, not holding classes on Wednesday, reports Channel 2.
The school is located in the French Hill neighborhood of northeastern Jerusalem near Hebrew University's Mount Scopus campus, which has been a frequent target of Arab terror from nearby Shuafat neighborhood. Security at the school is only active until 2 p.m.
The call to strike echoes that of Sarah Shulman of the Eli community in Samaria's Binyamin region, who said at the anti-terror protest in front of the Prime Minister's Residence on Tuesday: "I will not go out and teach children who may be murdered tomorrow and I will not travel on roads where children and my students are afraid."