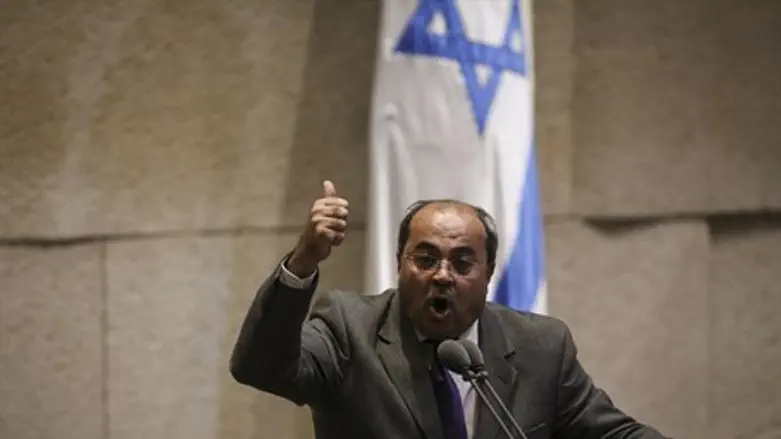 Ahmed Tibi
Hadas Parush/Flash 90
MK Ahmed Tibi (Joint List) was called out for incitement on Tuesday, after he portrayed one of the Palestinian Arab terrorists behind Saturday night's stabbing attacks as a "victim" being "chased by settlers." 
Tibi posted a photo Monday night expressing support for terrorist Fadi Alwan. The picture contains a watermark saying "I acknowledge apartheid exists" and is accompanied by text reading, "My name is Fadi, I'm 19 Years Old. I was being pursued by Israeli settlers, so I rushed to the Israeli police for help. They shot me dead."
Palestinian and Israeli Arabs rushed to make the photo viral. Meanwhile, Israelis fumed over the gall that an MK serving in the Knesset could express such views for a cold-blooded murderer without being arrested for incitement. 
On Tuesday, Tibi finally amended the caption, hours after Prime Minister Binyamin Netanyahu and the Cabinet passed new measures cracking down on incitement to violence. 
His explanation only sidestepped the issue, however. 
"I was comparing Fadi to Yishai Schlissel," he stated, referring to the haredi man who stabbed six people at the Jerusalem Gay Pride parade in September. "The Israel Police arrested him and took him into custody, but they shot Fadi dead." 
Tibi further claimed that Israeli law does not sentence murderers to death, only to prison - ignoring the fact that Israel Police only eliminate terrorists after taking precautionary steps to stop the assailant.