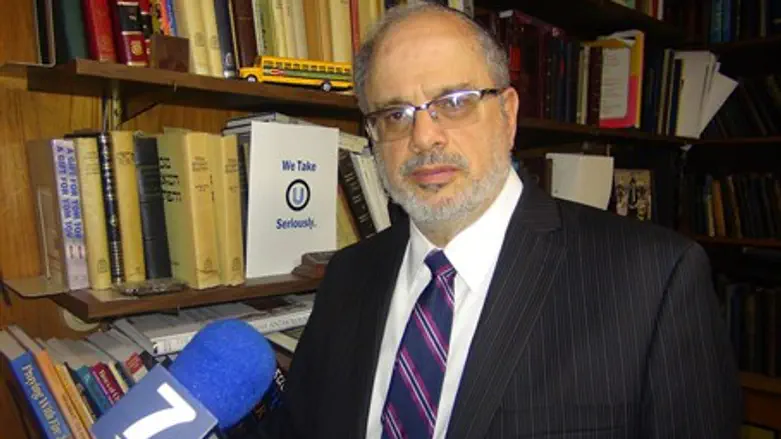 Rabbi Yoel Schonfeld
Eliran Aharon
The New York Jewish community sends condolences to the families of Jews murdered in Israel over Sukkot, Rabbi Yoel Schonfeld, the rabbi of Young Israel of Kew Garden Hills, stated to Arutz Sheva this week, and adds that the entire Jewish people feel the loss. 
"Anyone who is somewhat of a feeling Jew senses a personal tragedy which affected us, as have cases in the past," he said. 
Rabbi Schonfeld also commended Prime Minister Binyamin Netanyahu for "telling it like it is" at the United Nations last week, calling the UN "uncaring, silent beings when it comes to the suffering of Jews" and thanking Netanyahu for condemning Palestinian Authority (PA) chairman Mahmoud Abbas.
But that is not enough, Rabbi Schonfeld maintained. 
"Abbas is directly responsible for the murders of these people," he fired. "These are his people, he does not condemn the murders, he helps celebrate the murders, and some of his associates [...] have openly taken credit for the murders of the wonderful couple, the Henkins." 
"Mr. Abbas should be arrested as being a war criminal, as being a terrorist," he said, adding that the IDF should arrest PA ministers for incitement. "We have to think otherwise that we can somehow live in coexistence with the Arabs - day and day again, tragedy after tragedy again, we see this is a dream that cannot come to fruition." 
Rabbi Schonfeld also questioned why Israel does not use terrorists' bodies as bargaining chips for the bodies of IDF soldiers killed in Gaza and Lebanon.
"There's so much more that has to be done," he said, urging Israel to "stop hiring Arabs" and allowing them access to weapons in the context of food industry jobs. 
"We have to treat each and every Arab [...] as a suspect until proven otherwise," he concluded.