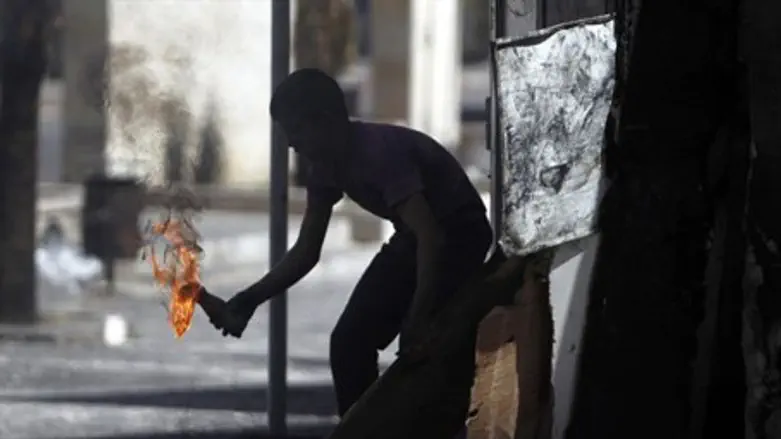 Firebomber prepares to attack (file)
Reuters
Amid heightened tensions in Jerusalem following this evening's deadly stabbing and shooting attack in the Old City, border police gave chase after spotting a suspicious Arab man in the neighborhood of A-Tor.
During the chase the suspect drew a knife, and was promptly tackled and arrested by police.
Elsewhere, in the Arab neighborhood of Issawiya, border police noticed an Arab youth lighting a firebomb, with the intention of hurling it at security forces.
Police acted preemptively, shooting and injuring the terrorist before he was able to attack. 
Other Arab residents spirited him away before police were able to apprehend him, and forces have now sealed roads into the neighborhood as they search for the suspect.
Several other rock-throwing attacks were reported Saturday night, including one targeting an Israeli ambulance traveling along Route 60 near Hevron. No one was injured in that attack, but the ambulance itself suffered extensive damage.
Meanwhile, protests have erupted throughout Israel following the latest attack, which comes just two days after the brutal slaying of parents Eitam and Naama Henkin in front of their children.
Protesters in Jerusalem and throughout Judea and Samaria temporarily blocked roads to Arab traffic.
Outside Shiloh in Samaria, one activist summed up the sentiments of protesters throughout the country: "It can't be that in Israel Jews are afraid to travel but Arabs travel freely. If we can't move around freely then neither can they."