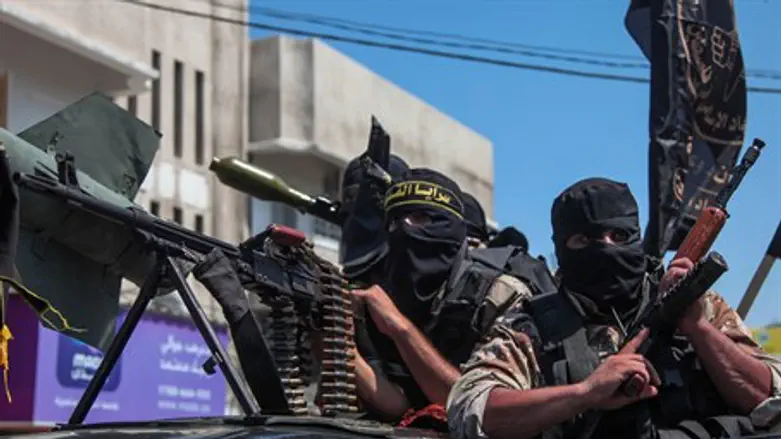 Islamic Jihad terrorists (file)
Emad Nassar/Flash 90
The Islamic Jihad terrorist group has claimed responsibility for sending the 19-year-old Arab terrorist who murdered two Israelis and wounded two others in a stabbing attack in Jerusalem's Old City on Saturday night.
The terrorist was named as Mohannad Shafik Halabi, a resident of Al-Bireh located adjacent to Ramallah in Samaria.
"Mohammed Shafik Halabi, 19, is a member of Islamic Jihad," a senior member of the Gaza-based terror group told AFP on condition of anonymity, after the group issued a statement hailing the attack and saying it was in response to Israeli "terrorist crimes" against Palestinian Arabs.
Just days before the attack, Halabi posted on Facebook that "the third intifada has already begun."
"We are at the start of a true intifada," wrote Islamic Jihad in an announcement. "The situation is at the breaking point - this isn't a storm in a teacup. Today (Prime Minister Binyamin) Netanyahu is reaping what he sowed. The Palestinian people have spoken - harming Al-Aqsa is a red line."
The reference is to Al-Aqsa Mosque on the Temple Mount, the holiest site in Judaism, where Arab terrorists have recently stepped up their violence in rioting and have likewise hurled explosives and rocks at police from inside the mosque.
The Palestinian Arabs claim that the IDF has already informed the family of the terrorist that his home will be demolished tonight. 
Hamas welcomed the attack and called for additional murders. Hamas spokesperson Hussam Bardan called the attack an act of heroism, and said, "we support every attack of this type."