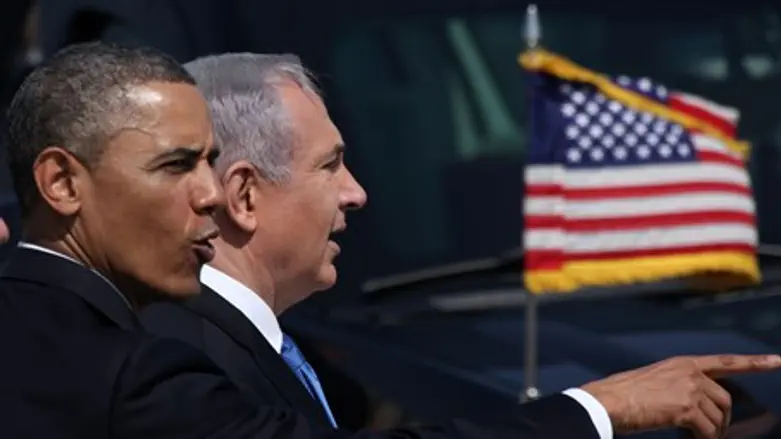 Barack Obama, Binyamin Netanyahu
Flash 90
Prime Minister Binyamin Netanyahu informed the United States administration that his speech on Thursday at the UN General Assembly, in which he dealt extensively with the nuclear deal between Iran and six world powers, would be his swansong on his public fight against the accord, senior American officials told Haaretz on Friday.
"They told us right after the speech that the Iran part was intended to close the chapter on the deal…time will tell if this is the case," one U.S. official said, citing Netanyahu's aides.
The senior American officials stressed that the government got the impression from the message by Netanyahu's people that after many months of fighting the nuclear deal, the prime minister is ready to move on to talking about what comes next and the ways in which the United States and Israel will jointly deal with Iran and its subversive activities in the region.
Netanyahu will meet President Barack Obama at the White House at the beginning of November for their first meeting in over a year. Senior administration officials hope the Kerry meeting will provide additional evidence of Israel's preparedness to deal with the post-deal reality, according to Haaretz.
Netanyahu did not deny in a press briefing Thursday night that he sent such a message to the Americans and sufficed with a general statement that "I didn't give any approval of the nuclear deal."
Still, noted Haaretz, Netanyahu stressed in the briefing as well as in his speech that the time has come to look forward to the day after the nuclear deal and focus on several essential issues to continue the struggle against Iran.
He called for uncompromising implementation of the nuclear deal, including confirmation that inspectors from the International Atomic Energy Agency (IAEA) are carrying out effective inspections of Iran's nuclear facilities.
"Force Iran to meet all its nuclear obligations," said Netanyahu. "Confirm that Iran's violations are not swept under the Persian rug."
Second, he called for a meticulously maintained mechanism for snapback of sanctions in order to make sure how, when and in response to which violations sanctions will be reimposed.
Finally, he called for international action against Iranian subversion in the region and its support for terrorist organizations like Hezbollah and Hamas, according to Haaretz.
Relations between the United States and Israel have been strained in recent months over Netanyahu's fierce and vocal objection to the Iran deal and the dangers it poses.
However, American officials have recently toned down their criticism of Netanyahu's opposition to the deal.
Secretary of State John Kerry phoned Netanyahu at one point to discuss Iran and reaffirm the U.S. commitment to Israel's security, and Vice President Joe Biden later told American Jewish leaders the United States wants to meet with Israel to discuss how it can ensure Israel's military advantage over its enemies.
Biden told his guests the U.S. was "fully, thoroughly prepared" to sit down with Israel's intelligence and defense community to ask a simple question: "What do you need?"
Obama himself held a phone call with American rabbis before Rosh Hashanah, in which he indicated that security talks with Israel had resumed.
(Arutz Sheva's North American desk is keeping you updated until the start of Shabbat in New York. The time posted automatically on all Arutz Sheva articles, however, is Israeli time.)