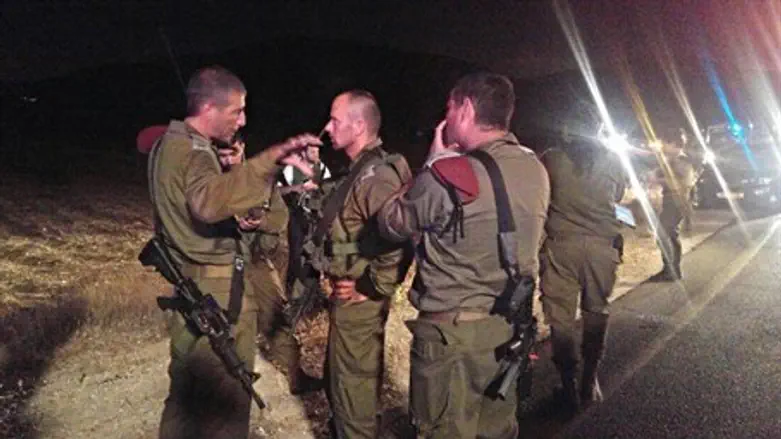 Scene of Samaria terrorist attack
IDF Spokesman's Unit
A security official said on Thursday night that the terrorists who carried out the attack in Samaria verified that the victims, Rabbi Eitam and Naama Henkin, were dead before fleeing the scene.
The official estimated that the terrorists did not see the couple's four young children in the back of the car, which is why the children were not killed. Another possibility is that the terrorists were rushing to flee the scene before security forces could catch them.
Defense Minister Moshe Ya'alon was briefed on Thursday evening following the terrorist attack.
Speaking after the briefing, Ya'alon said, "The murderous attack tonight is a clear continuity of the incitement against the State of Israel and its citizens, and the repeated attempts to carry out attacks."
"The war on terror requires resolve, an iron fist and patience," he continued. "We are fighting a bloodthirsty and ruthless enemy, and unfortunately also suffer losses along the way. At this moment the IDF and the Shin Bet are in pursuit of the killers. We will hunt them down and not be silent until we place our hands on the murderers and those who sent them."
Israeli ministers earlier lost no time in condemning the terror attack, connecting it with Palestinian Authority (PA) chairman Mahmoud Abbas's UN speech the day before in which he announced the PA is abandoning the Oslo Accords.
Deputy Foreign Minister Tzipi Hotovely (Likud) said, "Abbas is inciting and the on the ground they are incited, and this is how the murderous mechanism that motivates murderous terror attacks in Judea and Samaria works."
"This type of incident is more proof that the Palestinians do not want peace but rather hatred, not dialogue but rather incitement and hatred. I strengthen the hands of the security forces in their search after the lowly murderers," she added.
Also blaming Abbas was Agriculture Minister Uri Ariel (Jewish Home), who said, "This murderous incident that leaves behind a family orphaned of its parents is an outcome and direct continuation of Abbas's mask of lies at the UN yesterday."
"The responsibility is his, and his alone, and he must give an accounting for it. The response to the awful murder must be the annexation of Area C, an expansion of the settlement in Jerusalem, Judea and Samaria," he said, calling for the myriad of blocs under full Israeli control in Judea and Samaria to be annexed.